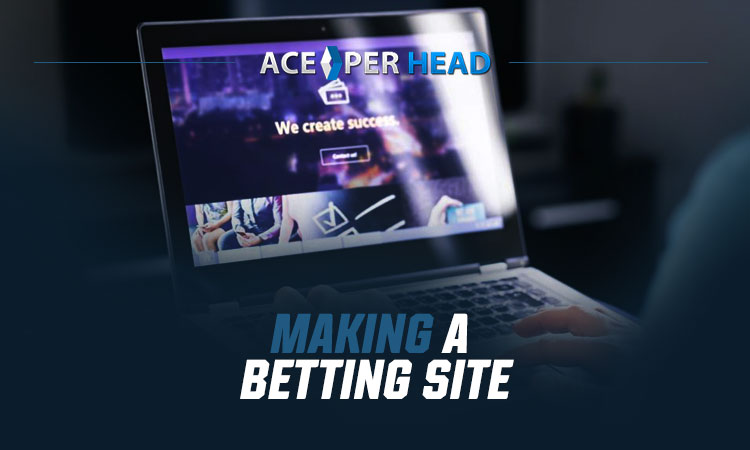 There are about 5.03 billion internet users around the world. Many of them are looking to place bets on the sports and events they love. Unfortunately, it can be challenging for new bookies to stand out against Google's 200 million active websites.
If you're looking to set up an online sportsbook, it's important to use top bookie betting software. This is the #1 way to gain traffic, build a brand, boost your reputation, and run a lucrative sports betting business. Read on to learn how to create a great sportsbook website with Ace Per Head's sports betting online platform.
Choose the Right Bookie Betting Software
Before you can create a compelling bookie website, you'll need to choose an online platform that can sustain your business. The first thing to do is consider the payment method you want to use.
Pay per head (PPH) platforms are the best choice for budding bookies. Rather than paying the same monthly flat fee during the off-season as you would around major events, the cost of using your bookie betting software is scalable. You pay as low as $3 per active bettor on your website.
So, if you only have 5 bettors during off-peak events, you'll only be paying around $50. This is true even if 1000 people bet on the Super Bowl with you, causing you to pay $10,000 in February. Basically, you can conceptualize your fee as 10% of what you make if each bettor were to place a $100 bet.
Of course, this fee can slightly increase to $15-$20 if you want additional features. Ace Per Head's experts will let you know in advance. We'll also help you come up with something that works within your budget.
To better understand why you should set up a sportsbook with Ace Per Head, it's essential that you read online reviews. This, combined with talking to other bookies on online forums, will help you feel more confident in your decision.
Make sure that your bookie platform has all the features and capabilities you'll need. This is essential for those looking to set up the best possible betting website.
Create a Sportsbook-Specific Website
When you work with the top online sportsbook software provider, you'll have the chance to create a website made specifically for bookies. By this, we mean that your website will be equipped with services that bookies need. You won't be contending with a poorly-modified eCommerce web platform.
Instead, you'll have bookie software that comes equipped with:
Integrated score tracking for teams and events
SMS notifications when someone places a bet
An in-app bet ticker
An easy-to-use betting interface for both you and your players
Player watch reports
Options for cryptocurrency payments/betting
Usually, these features come with a customizable web template made specifically for sportsbooks. Ace Per Head's team will help you customize the template to meet your individual specifications. This means integrating the above features appropriately, using brand images, including information about your sportsbook, and displaying lines/odds/bets/limits on player dashboards.
If you don't like the idea of a template, we can also help you set up a 100% custom webpage. Our team is simply here to make your vision a reality.
Ensure Mobile Capabilities
Most online traffic comes from mobile devices as of 2022. In fact, about 15% of adults across the US only access the web from smartphones.
Because of this, it's important that you create a sportsbook that's completely mobile-ready. You'll need to optimize for both iOS and Android devices.
It's important that you envision your website in a way that primarily looks good on mobile screens to provide a positive UX to smartphone users. If this comes at the expense of some desktop design features you like, so be it.
However, working with Ace Per Head means that you get the best of both worlds. We make sure that your desktop site looks great while also designing a user-friendly mobile app that keeps gamblers interested.
Follow Recent Web Design Trends
An outdated-looking website or application isn't going to get you far with online gamblers. The sports betting market is extremely competitive, and bettors will go to competitor websites if yours isn't cutting-edge and up-to-date.
If you want bettors to flock to you, you'll need to:
Use your brand colors and images to make an impact
Ensure that any text is in a bold and clear font
Avoid any clashing colors that are difficult on the eyes
Incorporate a clear navigation system that works on smartphones
Use multimedia content like images and (especially) videos
Showcase ongoing bets on player's main dashboards
Show upcoming betting options so that users can immediately place bets
Be clear about the payout that they can/will receive from various bets
Showcase payment options clearly in a simple one-click betting portal
Make sure that your platform also loads quickly. Lag time can cause bettors to bounce after about 6 seconds, so make sure that there are no functionality issues that cause poor site functionality.
You also will need a pay per head provider that has 24/7 avenues for you to communicate with them. This will let you request upgrades, have excellent site monitoring, and immediately troubleshoot any potential issues.
Set Up a Betting Website With Ace Per Head
While there are many bookie betting software options out there, Ace Per Head is the best one to help you set up and launch an online sportsbook. It's time to start working with us to build your sports betting business from the ground up.
Our experts are excited to discuss your individual needs. We're committed to helping you create a competitive brand image with specialized sportsbook website templates or customization strategies. Schedule a six-week promo of our services to see how we can help you engage bettors ASAP.