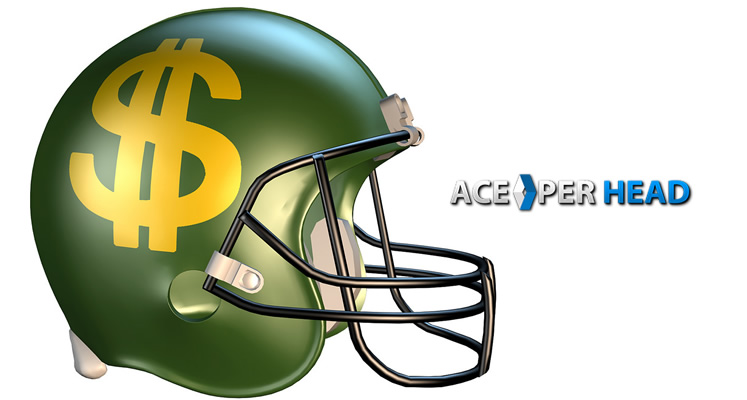 With football season quickly approaching, agents are scouting the field to find the best NFL odds for bookies. And it won't be long before you start to see pay per head shops posting their projected team wins and odds to win the Super Bowl, but you might have to wait a few weeks before you can compare betting odds for the regular season since most pay per heads will stall until the pre-season is well underway.
How Good Will This Year Be for Bookies
But, even though it's early in the year, the real pros at AcePerHead.com have already posted strong lines for the first week of the regular season. You must give it to them, it takes balls to be able to post sharp lines for the regular season when pre-season isn't set to start for another week.
For those of us who are familiar with how Ace Per Head works, this doesn't come as a surprise, this is just what you expect from the leading pay per head company in the world. Posting early lines elevates the sense of expectation in players, it gets them geared up for the upcoming season, and that is something bookies are looking for.
Clearly, building expectations is not the only factor agents consider when shopping around for the best NFL odds for bookies. Bookmakers look at odds differently than players and analysts do, the trick to having a profitable season lies in working with a shop that can consistently post sharp lines that inconspicuously favor the bookie.
Smart players will be able to spot lopsided odds a mile away, and they will find a way to exploit those, this is one of the reasons for which sharp player monitoring is so necessary, and it is one of the best value-added services www.AcePerHead.com has to offer.
Another factor that heavily influences how good of a season an agent will have lies in the accuracy with which the oddsmakers can predict specific scenarios. Team totals and odds to win the Super Bowl are some of the first lines to be posted. Both are very popular betting odds, but predicting how teams will perform before the season even starts is always a little tricky not to mention dangerous, and if you are making this prediction for to post lines for thousands of bookie agents then it becomes downright scary.
There are some teams that you expect will do well in the season, there are those you have no faith in, but then there are some teams that to the untrained eye might seem like they have nothing to offer, but the experts see something most of us don't.
Some of the team total predictions from one expert at AcePerHead.com will surprise you, but, before you dismiss them as foolishness remember that for the past 20 years the best NFL odds for bookies have been posted here.
Here are a couple of the most surprising team total predictions.
New York Giants
I know what you are thinking, there is no way the NY Giants will have much improved this year with Eli Manning as the quarterback, age gets to us all, and in this sport, if you are 37 rapidly going on 38, you are an old, old man. But, here is the rationale behind the prediction that the Giants will have a better season.
We all know the Giants have lacked a running game for what feels like an eternity, which meant there was a lot of pressure on Eli. But this year they drafted elite running back prospect Saquon Barkley, who also did them the favor of suggesting they pickguard Will Hernandez in Round 2, they also signed left tackle Nate Solder which will help close some of the offensive holes the team had. And let us not forget that Odell Beckham Jr. is healthy again and ready to play.
Prediction: 10-6
Cleveland Browns
Just when you think a team can't do worse than their previous season, the Cleveland Browns come along to prove you wrong. They went 1-15 in 2016 and an incredible 0-16 in 2017, so you would hope the only way for them to go is up, right?
Well, given their poor performance in the last three seasons, betting on the under total season wins has become an incredibly popular bet amongst players, one which is usually considered money in the bank. But agents and players alike might be in for a surprise this year.
The Browns are finally starting to show signs of having a real team assembled. Now don't get all crazy and think this will be a Cinderella story where the worse team in the NFL will end up winning the Super Bowl. But, they will surprise quite a few people, and they could potentially become a good source of income for bookie agents this season.
The improvements on both sides of the game are notable; on the offensive hand, they have some excellent talent with players like Kevin Zeitler, JC Tretter, and Joel Bitonio. And with defensive linemen Myles Garrett, Larry Ogunjobi, Emmanuel Ogbah, and Trevon Coley, the Browns could end up with one of the league's best run defenses.
The bottom line the depth this team has is unlike anything we've seen from them in the past, and I agree that this will take most by surprise.
Prediction: 8-8
Houston Texans
The last time the Houston Texans showed any promise was back in 2012 when they went 12-4, after that they have had a series of inconsistent seasons, last season they performed worse than the previous 3 years ending the season with a 4-12 record.
They are below-average performance last year was in part due to key player injuries, as you may recall rookie quarterback DeShaun Watson was proving to be a revelation in the 6.5 games he played, then he suffered an ACL tear that knocked him out of the season. Linebacker Brian Cushing was also out for a significant portion of the season.
Watson is now fully recovered, and I see no reason why he won't pick up right where he left last year, in case you have forgotten this kid threw 19 touchdowns in the 6.5 games he played last season.
The Texans have in their roster one of the best receivers in the game, DeAndre Hopkins, and they drafted wide receiver, Keke Coutee. This should improve their offense and give them the break they have so desperately been waiting for.
Prediction: 11-5
There are sure to be more surprises this season, some incredible new talent is making their debut while some old-timers are fighting for one last glorious moment. But, regardless of what this season will bring, there is one thing that won't be a surprise, the best NFL odds for bookies will still be posted at AcePerHead.com.