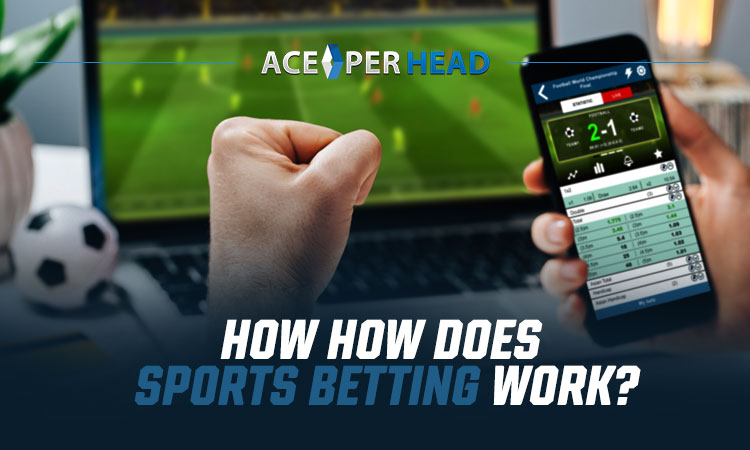 If you are new to sports betting, you may just be wondering, "How does sports betting work?"
Top Tips for the Novice Sports Bettor
The concepts of the point spread, the Moneyline, and reading odds are fairly simple. It is also easy to find places that will accept your sports wagers, such as the platforms offered by AcePerHead.com. However, moving on from the basics is often a challenge for novice sports bettors. Let's take a look at some tips to help you move from the basics of sports betting as you look to start turning profits from your wagers.
Tip #1: Begin with Smaller Bets
Figuring out how to outwit the sportsbooks will take you a great deal of time. Different sports bettors figure out the path to victory more quickly than others, but even for the most ingenious sports bettors, you have to get through a learning curve. Unless you just won the lottery, you just have some money that you have free to wager on sports, so while you are in the learning phase, do not make the error of betting too large per game.
While you are in the early phases, think about limiting your biggest bets to about $20. For other bets, shoot for the $5 to $10 range. Over time, as you start to learn more and more about how to win, you can put that maximum higher, but remember to limit your wagering to using money that is not part of your budget for living essentials.
Another way to figure out your maximum is to figure out how much you can spare for your bankroll. Put this money apart from your other funds, and only use it for sports betting. Divide that bankroll by 100 to get your maximum bet. So if you have $2,000 in your bankroll, your max bet would be $20. While very little in sports betting is certain, one thing you can bank on is that you will make mistakes, so using small parts of your bankroll will limit the damage that mistakes cost you, giving you a longer wagering life before your bankroll disappears.
Tip #2: Focus your Wagering on a Specific Area
The vast majority of sports bettors get into the action by wagering on their favorite sports teams and putting down bets on big events, like the NCAA men's basketball tournament or the Super Bowl. This is a fun way to start because these events get lots of press. However, one reason a lot of new sports bettors lose a lot of money at the start is that they end up betting a lot on events that they do not know much about. For example, if you have read that 12-seeds often upset 5-seeds in the men's basketball tournament, and you try to be trendy by betting on all four of the 12-seeds without reviewing all four matchups carefully, you will just be handing money to the bookmaker.
So if you are wondering "How does sports betting work?" at this point, pick just one sport and focus on that. Narrowing your focus will allow you to develop a research base that will help you select winners. If you find that researching college football takes too much effort (and there are a lot of teams to learn about), just select one conference. You might think about picking a mid-major conference instead of one of the Power 5, because there is some room for error in the sportsbooks the further you get down the college football hierarchy.
Tip #3: Put your Bets on the Moneyline
The majority of sporting events have a minimum of two different lines. One will go against the spread. The other is a Moneyline. In this sort of wager, you pick which team will win the game. When you bet against a point spread, you usually spend $110 to win $100 on either side of that spread, although moneylines can be adjusted from that point if action comes in too hot on one side of the point spread. In a Moneyline wager, the various figures show the disparity. An example might feature Ohio State playing Indiana in football. If the Moneyline is Ohio State -180 / Indiana +220, you would have to bet $180 to win $100 on Ohio State, but if you bet on Indiana, and you put down $100, you would win $220.
It is often much easier to decide which team is going to win a game outright than to pick against a point spread. If you have an eye on an underdog that has a solid chance at winning, that can make a smart wager. If you win on underdogs, you do not have to place as many bets to make a profit.
This is just the beginning when it comes to tips for the novice bettor. You are far from alone if you find yourself wondering, "How does sports betting work?" However, this is a topic that can help you turn your cash into profits while doing something you love – watching and staying engaged with sporting events.
AcePerHead.com is a platform that offers sports betting options to hundreds of agents. Each sportsbook has a separate owner, who is responsible for setting odds, choosing events, establishing props, and signing up betting clients. You can often find some fairly wide variance among the different sportsbooks on Ace Per Head, as they try to establish a competitive advantage based on information (or intuition) about events that they believe will help them beat the odds that most of the larger sportsbooks have set.
PPH Payments
If you start betting with a sportsbook that uses the Ace Per Head platform, you have peace of mind thanks to the encrypted third-party payment system that we use to move money from betting clients to sportsbook owners. You can use bitcoins, Gift cards, and other payment portals to send and receive funds. Obviously, you'll hope to be pulling in more money than you send out – that's the dream of every sports bettor. Hopefully, this advice will get you on your way.
Sports Betting Management Software
If you are looking to become a local bookie and want to accept wagers on sports bets, then the most optimal way to do that would be to use sports betting management software. This can be found by looking at the pay-per-head industry.
These companies provide a fully inclusive sports betting management software that is managed directly by the provider. They provide a professional sportsbook website where they post hundreds of thousands of sports betting options each and every day and then manage and update all lines and odds up to the second. There is a player site for players to make all their wagers online, and an agent backend site that helps to manage all the players and give all their current and past betting information.
Finding a quality software
There are numerous pay-per-head companies to choose from in the world, however, there are obviously some that are better than others. There are various factors that make other providers better.
For starters, it's important to find a company that has the most betting options possible because the more betting options for your players to choose from, the more they will bet overall, which will all lead to you as the bookie earning more money. The next thing to look for is a site that has sharp fast-moving lines, not ones that stay static and do not update in a timely manner. The difference between a half a point or a point on a wager for a game can often be the difference between a win or a loss.
After that, it is important that the provider has a simple and easy-to-use interface and a quality mobile website platform. It should be very easy to find the sport or game you are looking to wager on, and then be able to make a wager with just a couple of clicks. Gamblers are not always the smartest people in the world, so the website needs to be simple for even the most inexperienced bettors to be able to use.
The agent backend software also needs to be easy to use, and simple to understand. This is where you can see how much each player won or lost for the day, week, month, year and lifetime, and see all pending wagers and all history of bets. In addition, the best agent interfaces give various tools to use that can send you alerts when players make a wager, reports on thorough player analysis, a complete history of all wagers, and other useful reports.
AcePerHead Checks all the Boxes
One pay-per-head company that has been in the business for over 25 years and has one of the best sports betting management software in the industry is AcePerHead.com. They have everything mentioned above, plus a 24/7 customer service department that can be reached by phone, text, email, or live chat and answer any and all the questions you may have in regards to booking action. They have been rated with the top customer service for years. Give AcePerHead.com a call today at 1-800-909-5193 to get set up immediately.