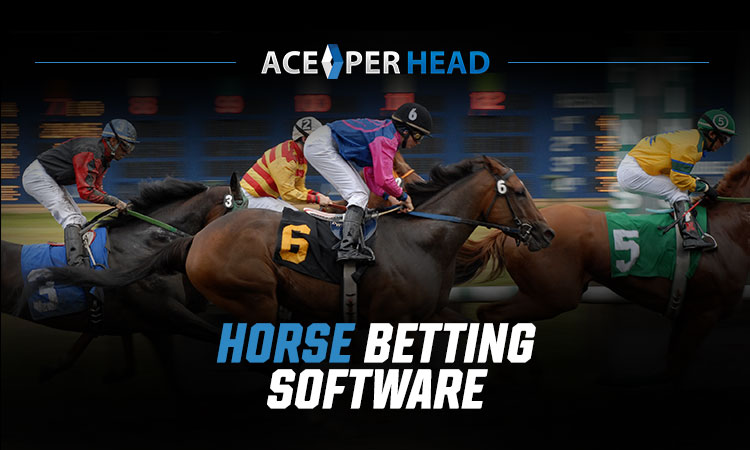 Despite the many sporting events available for viewing across the world, sports betting remains popular. Races average around 13 seconds, which brings an adrenaline-filled short timeframe for the viewer. The results are fast and the return is faster, which makes the sport perfect for the modern-day bettor.
Whether you're a new or experienced bookie, prioritizing horse betting software is the right choice if you want to grow your sportsbook.
Here, we're going to talk about how you can select the perfect platform to ensure that the players you work with keep coming back. Read on to learn what features you need to look for and why Ace Per Head has your back.
Why Horse Betting Software?
The popularity of horse betting makes it the perfect choice for your sportsbook. However, its worldwide popularity makes it a great way to reach players in other countries as well.
The sport is a billion-pound market in the UK and an integral pastime for Japanese businessmen. By adding sports betting to your portfolio, you're making yourself more popular with a global audience.
Additionally, horse betting is generally viewed differently from other sports betting options. Even those who have no interest in football or baseball can enjoy the races. You'll be able to expand your clientele to those with interests that diverge from the realm of athletics.
Another reason to invest in horse betting software is that you'll get your money extremely quickly. As we discussed, horse races are exceedingly fast events, so you won't need to wait long to learn whether or not you need to pay winning players. This can help you to better budget your money in both the short and long term.
How Can You Choose the Right Software for Horse Betting?
Before you can choose the right type of horse betting software to suit your needs, it's important that you understand what Pay Per Head (PPH) technology is. PPH services are bookie platforms where you pay a provider based on the number of bettors you work with. This fee will be around $10 but can increase if you want other features beyond the basics.
In exchange for this fee, you will receive complete management from the horse raing pay per head provider. They'll take care of web maintenance and updates, security, and customer support for both you as an agent and your bettors. You won't need to worry about anything besides watching the sports you're passionate about and reeling in money.
There are a plethora of benefits to this payment plan that other software types can't match. PPH allows for much more flexibility than other payment types do since you only pay for what you use. This makes your bookie business more scalable by giving it greater room to grow.
You also can pay this fee in a wide variety of payment methods including bitcoin and other cryptocurrencies. You therefore have the option to maintain untraceable as a bookie. This is a choice that can keep your business secure and your privacy under lock and key.
1 – Decide What You Value
Before you can select a horse betting software, you need to consider what you value in any given race. Are you only going to have people bet on the outcomes of major races? Will you be having them place smaller and more specific bets on how fast horses will go and what moves players will make?
Some platforms allow for greater flexibility than others. Unless you're an amateur bookie who's still trying to get into the swing of things, you'll probably want a highly customizable platform. You'll then be able to let clients place nuanced bets that they wouldn't be able to on competitor platforms.
2 – Consider How Much Support You'll Need
If you're a new horse betting agent, you're going to need a pay per head horse betting company that holds your hand every step of the way. You'll need to find a provider that's willing to communicate with you at all times and help you set up a user-friendly platform on both the agent and player end. You may not be invested in specific high-level features yet, but you will need to learn how to use your site.
However, if you're a more experienced bookie, you will need these individualistic, highly-specified features. This will set you apart from the competition and keep your clients coming back for more rounds of betting. As a result, you're still going to need round-the-clock support and the ability to get assistance regularly.
The bottom line is that you need to think of the high amount of expertise and assistance you'll need. No matter who you are, having this support as a bookie is essential.
3 – Do You Plan to Grow?
Most horse betting agents don't stop with the races. They upgrade their platform to offer betting of multiple varieties. Growing your sportsbook is essential because it helps you to engage more bettors who then can move on to your main event- horse racing- even if they were initially only interested in baseball or soccer.
You need to look for a pay per head bookie platform that can sustain this growth. This means selecting a service that's happy to communicate with clients and help you with everyday issues.
Ace Per Head: Why It's the #1 Solution for Bookies
Doing online research about the many pay per head horse racing options to you is a good choice. However, you don't need to look any further than Ace Per Head to find the best online horse betting software.
Our platform offers the low prices, scalability, high-level support, and sustainability that we talked about above. However, it also has a wide variety of other features including:
Personal account management from expert specialists
High-level trust (you never need to tell us who you or your clients are)
Updated website design
Regular maintenance on your site and applications
Fully custom configuration
You Design Your Platform
When you work with Ace Per Head, you get to design the site that both you and your players manage bets on. We offer a wide variety of mobile-friendly templates, but we're also willing to custom-make a site for you.
Just make sure that it works on Smartphones and tablets- that's how over half of the people around the world access the net!
Once you have the site of your dreams, you also don't need to maintain it. Our experts perform routine maintenance of your site. We also update the applications that you use to track the various horse races that people can bet on.
Transparency and Communication Are Simple
Ace Per Head is committed to making your pay per head horse betting site transparent. You'll be able to see and manage bets from the agent end easily. Your clients will also be able to easily see and manage these same bets on the player end.
Communication also offers greater transparency. Your players can interact with you via an online contact form assuming that you choose to put one on your website. This will eliminate the need for you to field calls and emails 24/7.
Speaking of round-the-clock phone calls, Ace Per Head has a call center that your clients can reach out to 24/7. This provides the high-lever customer service that they expect while saving you the heavy lifting.
Security and Anonymity Are Priorities
As we brushed on earlier, you don't need to tell us anything about yourself. We promise not to go digging, either. You can rest assured that we don't only value your privacy, but take measures to protect it such as allowing crypto payments.
Your client's privacy is also a top priority at Ace Per Head. We don't know who they are and we certainly work to make sure that others don't.
Since horse bettors will have entrusted you with personal and financial information, we make online security a priority. We make sure that multi-factor authentication features are in place on all sites built with our platform.
We also look for blips in the regular trends and patterns that your site has when functioning properly. This ensures that all malware will be nipped in the bud before it has the chance to cause any issues.
Pay Per Head Horse Racing Solutions
If you are looking to be a bookie and want to take action by booking people's bets, the most efficient way to do that would be to use a pay per head service. These services provide a fully inclusive sportsbook website where they post hundreds of thousands of odds each and every day for players to bet on.
These services update all the odds up to the second and have sports from all over the world. However if you also want to have a horse racing solution, then that is also possible as well, but you just have to find the right pay per head provider.
One of the best all-inclusive pay-per-head horse betting providers that also have a huge selection of horse racing available is AcePerHead.com. They actually do not even charge anything extra for the horse racing platform, instead, it is just included in the per head rate that includes access to all sports and horses. The standard rate is $10 per active player per week and you only get charged if the player has a graded wager for that week.
They specialize in horse tracks in North America and Australia and offer over 80 different horse tracks in these areas. However, if your players are interested in other horse races in different parts of the world these can also be added with no extra fee.
There is a specific tab on the site for players to select that says Horses, and that is where players will have access to all the tracks racing for that current day. The upcoming races will be featured on the top with an updated time of how many minutes to post, and then the list of other tracks racing later in the day below that.
All the feeds are directly linked to each track with the odds for each horse being paid out based on the closing line of each horse. So when any player makes a horse bet, the ticket will show the amount risked, and then the win amount will just be 0 because the odds will be calculated based on the closing line. Then once the race is over and if the ticket won the odds for the winning ticket will be calculated.
Players will have the option to bet multiple different types of horse bets just as if they were at the actual track, such as win, place, show, exactas, exacta boxes, trifectas, trifecta boxes, daily doubles, and pick threes. In addition, Ace has a mobile site where players can also quickly and easily access the horse platform and make horse wagers right from the palm of their hand on their smartphone.
Also for the bookies' safety, the horses do not pay out track odds since bookies don't share in the pool of the track where the odds are directly calculated from. So as a result the max payout and odds are capped as a form of protection for agents so they don't get crushed on a huge underdog horse that wins. That is the tradeoff for players since they don't have to spend their own time and money going directly to a track to make their horse bets.
So if you are looking for a pay per head horse betting solution give us a call today at 1-800-909-5193.
Get Started (and Make That Money)
Now, you know why Ace Per Head is the right pay per head horse betting software for both new and seasoned bookies. That means it's time to begin making money on the right side of the racing tables.
Create your package today and begin your 6-weeks free of Ace Per Head. You can see how our efficient and expert-run platform works with zero obligations. Because we're committed to bringing you a customized horse betting site and helping you to maintain your reputation as an agent, we look forward to chatting with you.