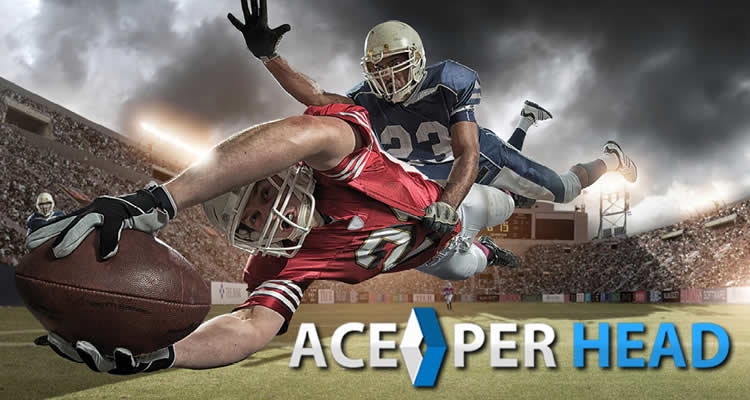 When you read about the sports betting business, you might wonder how they make money, especially when you read about a big game where the underdog paid off. Be aware that, if the sportsbook were not making money, they would not be in business, because there is no one who opens a business in order to keep losing cash, week in and week out.
Ace Pay Per Head.com is a big player in the pay per head betting industry, and today we are going to take a look at the math behind sportsbook profits.
Sportsbook Profits: A Look Behind the Scenes
The vig, or the vigorish, is the number one answer to the question, "Do sportsbooks make money?" Also known as the "juice," this is the fee that a sportsbook charges for taking wagers from bettors. The sportsbook only gets the vig, in the event of a losing wager.
Here's an example. Point spread wagers often come listed with odds at -110. Let's say that you're looking at a game between the Philadelphia Eagles and the Cleveland Browns, and the Browns are favored by three points. So if you wanted to take Cleveland -3, at -110 odds. That -110 number means that if you put down $100 and win, you get $190 back. If you want to get $100 in winnings, you'd have to put down $110 total. If you lose, the $10 goes to the book.
Of course, different sportsbooks offer different levels of vig. Sometimes you will see regular odds up for -115 or -120. The legalization of sports betting is spreading from state to state, and as it gets more popular, there will be an increasing level of competition among the books, which means that you may see more variety as far as vig numbers go. In some states, though, all of the books, across the board, run a higher vig, so it is good to compare numbers before you lock in a wager.
Another answer to the question "How does a sportsbook make money?" comes when you look at bets that get popular. Let's go back to that example of Cleveland at -3. If a lot of money is coming in on Cleveland to cover, the sportsbook has a couple of options. They can pull the line-up, pushing it to Cleveland -3 ½ or Cleveland -4, or they can push the Moneyline on the bet to -120 or even -130. That means that if you put down that $100 bet on Cleveland, your payout gets even smaller if you win.
How to Make your Sportsbook more popular?
If you are wondering how to make your sportsbook lucrative, you will also want to consider signing up for a pay per head service such as AcePerHead.com. You will avoid the hassles associated with having to design your own website, and you can sit back and just manage the "fun" parts of the book, leaving the nuts and bolts to the website staff.
Did your sportsbook start small – with just family and friends? Then you might not even be an online entity yet. You might just take wagers informally, collecting cash payments and spreading around the winnings. However, as your book is growing, you're finding all of the administrative tasks to be a bit of a nightmare.
Take Advantage of the AcePerHead.com Difference.
This is where a service like AcePerHead.com comes in. The amount of money you spend on our website depends on the number of active bettors that you have. So the larger the business, the larger the fee. However, if you're still on the smaller end, your fee is lower, and you still get access to the same premier services as the larger books on our platform.
The best part of the deal is the platform itself. Your online gambling site will look just as professional as the sportsbooks that the big Vegas and Atlantic City casinos operate because the mechanics behind the website are the same. You choose the customization options that you want, including the look you want for your page, along with the various sports and props that you want to offer. You can also set your lines if you feel like you have the expertise, or you can follow some of the big books. Of course, if you have an insight that you think makes your line better than that of the big books, then you can give yourself a competitive advantage.
Another benefit of using the Ace Per Head platform is access to a third-party payment system that keeps the money that you and your betting clients have invested securely. You can link your bank accounts to our platform – and so can your clients – which means that payouts can take place as soon as you authorize them. There's no more waiting for an envelope of cash to show up. Instead, your bettors get their winnings – or you get your profits.
We've helped sportsbooks of all sizes take their operations to the next level, and we can help yours as well. If you've been wondering "How does a sportsbook make money?" then hopefully this article has helped give you some insights. When you set up your book, make sure that your odds have the built-in vig so that you make those built-in profits when your bettors choose the wrong side of the wager. You might be tempted to go light on the vig, or even leave it out altogether, to get more bettors. The problems will come, though, when you aren't making any money. This is an accepted part of sports betting – your clients should expect it as part of the cost of the game. When you're ready to take your book to the next level, reach out to AcePerHead.com and talk to one of our new account experts. We will set you up with a pay per head free trial period so that you can welcome your clients on board, show them the benefits of the experience on your new page – and get ready for the money to start rolling in.
Bet Management Software
If you are looking to become a bookie then the first thing you will need to be a successful and profitable bookie is bet management software. This software can be found by utilizing the pay per head industry. The pay per head industry provides bet management software in the form of a sportsbook website that is fully managed by the per head company.
These PPH companies offer a website for bookies to offer to their players where the pay per head company manages all the betting lines and update all the odds up to the second on thousands of different games around the world 24 hours a day and 7 days a week. Unlike the stock market that has set business hours Monday thru Friday, the betting world never takes a day off or sleeps, because there is always something going on in the sports world no matter the time of day, such as football, basketball, baseball, hockey, soccer, tennis, golf, boxing, MMA, entertainment, horse racing, NASCAR, formula one, and various other smaller sports.
One of the best and most affordable bet management software providers in the current market is Ace Pay Per Head dot com. They offer some of the sharpest lines in the world because they not only take an average of the top 5 books lines but then aggressively move the lines in real-time, based on where the action is going and where the sharp professional money is going. This allows them to offer the most competitive hold percentage in the industry which is running at an average of 14% per week compared to the industry average of 5% per week.
The hold percentage is simply just the total amount lost divided by the total amount risked and a higher hold percentage means players lose more money. This is because of the sharper, faster-moving lines because the difference between a point and even half a point is often the difference between a player winning, or losing a wager.
In addition Ace also offers some of the best additional features in the business such as a VIP or Premium Live feature that offers live in-game betting on all sports and over 100 different live betting options per game. Included in that feature is also a live TV where players can actually watch the game they are betting on live right from their computer or smartphone device. Live betting is quickly becoming the most popular betting option, because it allows players to bet on games that are in progress and creates a lot more volume for each player, and the more volume then the more money players will lose over the long term.
Ace also has a prop builder feature on their site that allows players to bet an unlimited amount of player props on all sports and even customize their own player props, with odds associated with each type of wager. Such as a Patrick Mahomes over-under passing yards where the player can put the exact amount of yards they want to bet over or under and specific odds will be computed.
So if you want to use one of the best and most affordable bet management software companies in the betting business then give Ace Per Head a call today at 1-800-909-5193 to get set up immediately with a free trial.