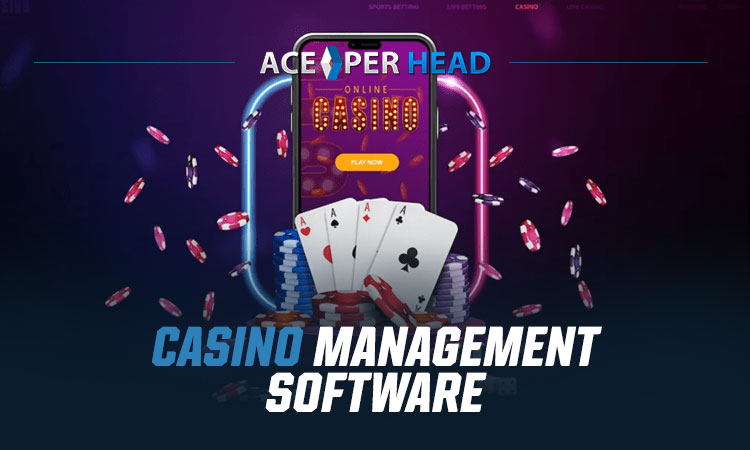 According to a recent American Gaming Association survey, just over one-third of American adults visit a casino each year. Many people enjoy blowing off steam by sitting down at slot machines, parking themselves at blackjack tables, and playing other casino games.
If you use a pay per head platform to run an online sportsbook, you should think about using America's love for casinos to your advantage. With the right casino management software, you can set up your very own online casino and utilize it to improve your bottom line.
Ace Per Head can set you up with one of the best casino management systems and allow you to offer a better experience than other online casino operations. Find out more about how this casino management software works below.
You Start by Securing the Right Casino Management Software
If you'd like to create an online casino for your clients, you'll need to begin by getting your hands on the right casino management software. To do this, you should look around at the different casino management systems that are available and select the best option.
Most pay per head services will be able to supply you with CMS systems. But very few of them will offer the wide range of casino games and the security you'll get from Ace Per Head. That's why you should strongly consider using Ace Per Head's casino management system.
You Give Your Clients Access to Your Online Casino
Once you obtain casino management software from a PPH service like Ace Per Head, you can connect it to your online sportsbook and give your clients access to it. You can also allow your clients to pick their preferences when it comes to things like the appearance of casino games and the speed at which these games operate.
Ace Per Head's casino management system will give you the opportunity to provide your clients with such a fun and exciting experience. It'll make them want to play games in your online casino more often.
You Pay a Low Price to Use a Casino Management System
There is a price you'll have to pay to use Ace Per Head's casino software. But you might be able to utilize it for as little as $3 per head.
That being said, you might want to add special features like live dealers to the mix for a slightly higher price. It'll leave you with an even better online casino product in the end and put you in a position to make more enormous profits from it.
Best Pay Per Head Company
Choosing the best pay per head company is essential for bookies looking to make huge profits. Discover how to choose the right business here.
Ease and Accessibility
Whether you're brand-new to the online betting space or you've been running your own site for years, the best pay-per-head company makes setup a breeze. When you trust the work to Ace Per Head, we'll get you started the same day you sign up.
From there, the only thing you have to do is share the new site with your players! We'll transfer everything over so you don't have to, from their settings and balances to their current open bets. They can even keep their same usernames and passwords.
Reliable Service and Support
Not all betting apps offer the superior level of customer support you'll receive at Ace Per Head. We've invested years into building our reliable team and are always available to help. We also keep your players' privacy and security top of mind and handle all interactions with the utmost security and discretion.
We're known as industry leaders because we never sacrifice quality to cut corners. The company you choose should be transparent, easy to work with, and there when you need them.
Feature-Rich Platform
Of course, you also want to team with a pay per head company that can offer your players the ultimate experience, every time they log in! You can check out all of our features to learn what we offer, but here's the high-level overview:
Mobile-friendly tools
Fully configurable boards, players, lines, and limits
VIP live betting
Bet ticker
Real-time wager alerts
Live scores
Custom prop builder
Move lines
Secure chat function
This is only a sample of the features your players can enjoy when you build your platform with us. We also offer a wide range of agent site features, so you're sure to have everything you need.
Find the Best Pay Per Head Software Here
When you're in the online sports betting industry, you need a solution that will attract — and keep — the right players. Partnering with the wrong company could turn them away and tarnish your reputation.
Thankfully, the opposite also holds true. When you team up with the best pay per head bookie software firm in the business, your reputation will precede you for all the right reasons. At Ace Per Head, we know what your players want, and we've built our platform to exceed those standards.
Establish Your Own Online Casino Through Ace Per Head
Are you operating an online sportsbook right now that doesn't include an online casino? You might be making a big mistake. The right casino management software can help you make more money than you are right now.
Ace Per Head would love to tell you more about our casino management system. We would also love to offer you a 6-week free promo so that you can test our casino management software out.
Discover more about our casino management system and start using it today.