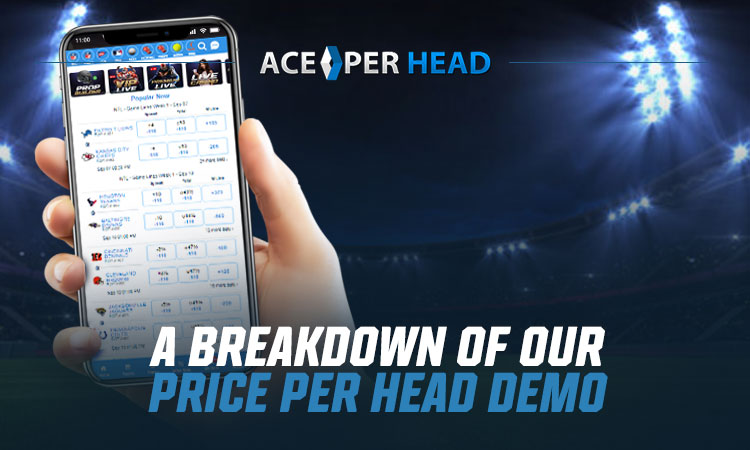 If you're among the 90% of Americans who are stressed about money, opening a bookie business is a great way to get back on your feet. The sports betting and gambling markets are growing every day, and people are always looking for new ways to place mobile bets.
A pay per head demo can help you discover available platforms so that you don't need to pay and commit to trying them out. Read on to learn the basics of Ace Per Head's demo and why it's a great idea.
What Is a Price Per Head Demo?
Price per head (PPH) software is a type of bookie platform. You pay a small fee for every active bettor you have of between $3-$10. In return, you get a custom website and dozens of great services like web support, player watch reports, and real-time bet tracking.
However, many people who don't know the ins and outs of a PPH platform want to try it before putting money into their website. This is where Ace Per Head's demo period comes in. You get some time to try out our company's services and get the same benefits that paying clients receive.
If you decide you like it, you can keep the website and features that you accessed during the promo period. You can also get more help refining and updating your platform to make it more appealing for players. Plus, we'll make it easier for you to use as you go forward!
Features and More
A PPH bookie software demo period lets you try out all the top features that we have to offer. You'll have the chance to see what our fully mobile betting interface looks like and how it can grow your sheet. You'll be able to discover how you can customize it, make the most of it, and configure boards, players, lines, and limits.
The Benefits of Scheduling a PPH Demo
Scheduling a pay-per-head demo is 100% free. There's no reason not to do it because you might find that it can save you a lot of time and money. You'll see how the services compare to your needs and whether we're a good fit for your growing bookie business.
You also can back out at any point during the promo. It's completely free of obligations. Though you likely won't want to do this, there's no reason to be stressed since you can if you want to.
In the end, a PPH demo can help you feel more confident in your decision to work with Ace Per Head. You won't need to invest any money into the software in order to learn whether it works for you. This means that you can be informed and have no regrets when paying for our services.
PPH Software Benefits for Bookmakers
Premier bookie software services are a bookie's dream come true. Learn about PPH software benefits in this brief guide on the topic.
Customizable Sports Betting Website
In 2023, it'll be impossible to be a successful bookie without a sports betting website. More than 80% of sports bettors place their bets online these days.
It's the No. 1 reason to work with one of the premier pay-per-head services. They'll provide you with instant access to a sports betting website that you can use to create accounts for your clients.
You'll also be able to customize a sports betting website to fit your specific needs. You can choose which sports betting options to include on it, which betting limits you want to put into place and more.
Sharpest Sports Betting Lines
Setting up a good-looking sports betting website will be important when you're trying to cut it as a bookie. But this isn't the only thing you'll need to be worried about.
You'll also need to fill this site with the sharpest sports betting lines. These lines should also adjust automatically to ensure you're generating the most possible action and putting yourself in a position to turn a steady profit.
It's another way in which working with pay per head services will benefit you. One of the main pay-per-head features will be delivering the sharpest sports betting lines to your site.
Excellent Customer Service
Both you and your clients will need to contact customer service every so often when you have a sports betting website set up. Premier pay-per-head services will deliver the best customer service around to you.
This will help you and your clients get answers to your pressing sports betting questions. You'll also love knowing that you won't have to be concerned about fielding questions from your clients on a daily basis.
Lowest PPH Software Costs
After hearing about some of the biggest sports betting software benefits, you might think working with pay-per-head services would cost you a small fortune. But it'll be more affordable than you might imagine.
You can obtain everything you'll need to become a successful bookie from pay-per-head services like Ace Per Head for as low as just $3 per head. You can also get a 6-week free promo from Ace Per Head to see what our bookie software can offer to you.
Try the Top Pay-Per-Head Software for Free
Now that you know the basics of our price per head demo, it's time to see what Ace Per Head can do to boost your bookie business. Our team will help you set up a mobile-ready gambling website and show you the features that we pride ourselves on offering. We're excited to show you what we can do, so create your package today to begin your free promo period.