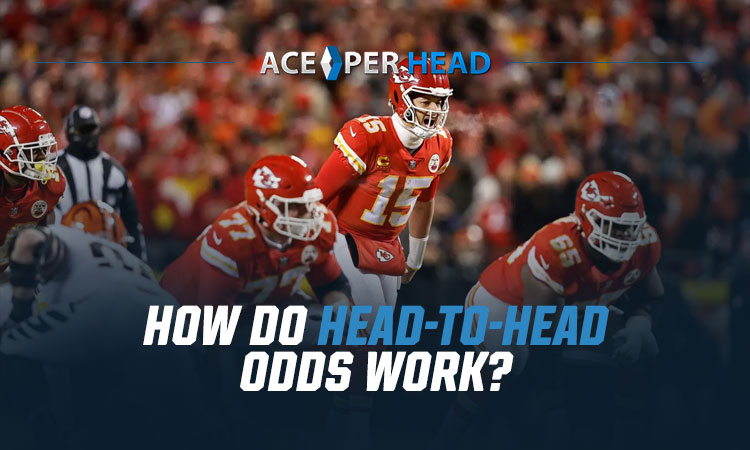 Parasocial relationships are powerful things, and everyone's guilty of having them with their favorite athletes. Head-to-head odds are a way for bookmakers to turn a profit off people's faith in their favorite sports stars… and let players have fun banking on them.
Read on to learn what head-to-head betting is and how to set these odds!
What Are Head-to-Head Odds?
"Head-to-head betting" is also known as two-way betting. You bet on one participant in a sporting event to finish ahead of another person involved in that same sporting event. Nothing else that happens during the event is relevant to that bet besides the two people that you initially selected to bet on.
For example, let's say that you're betting head-to-head in a Bears vs. Packers football game. You may choose to bet that Justin Fields, the Bears' quarterback, will outperform Packers quarterback Sean Clifford. Even if the Packers win the game, you would still win the bet assuming that Fields scored more goals than Clifford did.
You can also place head-to-head bets on two people on the same team. Jayden Reed and Christian Watson, the wide receivers for the Bears, may be pitted against each other in your head-to-head bet. The Bears' performance as a whole is irrelevant; only the scores of those two participants matter.
Why Should PPH Bookies Offer Head-to-Head Betting?
Diversifying your sports betting platform is always a good idea because it draws in more bettors. You'll get a wider range of people looking to place different bets.
In the case of head-to-head betting, you'll draw in people who want to make smaller bets than those who gamble on whole teams. You'll also bring in superfans of specific players in a given event.
Almost any sport can offer head-to-head betting, including popular options like football and baseball. Less-popular events like NASCAR and golf also are ideal for online head-to-head bets since the competition is usually between individual participants rather than full teams.
Setting Head-to-Head Odds the Right Way
When you set odds on sporting events and teams, you need to consider overall team records.
You need to think about who's been benched due to injuries, recent coach performance, and home advantage. You'll also need to look at the recent records of both teams, their strengths and weaknesses, and whether they've played each other in the past.
Setting head-to-head odds requires a different skill set. It takes far less time because you don't need to compare lots of team records and figure out what the likelihood of multiple outcomes is.
Instead, you simply need to look at the performance of the player pairings that you're looking to offer head-to-head betting options on. Consider which is the stronger player overall based on fan opinions and past records. Think about how their playing styles match up and determine whether one will overtake the other because of individual style.
Make sure to see whether they have faced each other in the past. There's no better indicator of future scores than past records.
Unveiling the Role of a Pay Per Head Bookie
If you're venturing into the realm of sports betting, you're bound to come across the term "pay-per-head bookie." But what exactly does this role entail?
Are you eager to transform your smartphone into a source of income?
The online sports betting industry presents a lucrative opportunity to not only generate extra revenue but also engage with avid players and bolster your online presence. If you're already immersed in the scores and stats, sportsbook software can transform your passion into a profitable venture.
The most efficient way to kickstart your sports betting business is by utilizing software that operates on a pay per head (PPH) model. This model empowers you to grow and expand your enterprise seamlessly. In this article, we delve into the responsibilities of a pay per head bookie and how you can embark on this journey with Ace Per Head.
Decoding Sportsbook Software
Before delving into the intricacies of the pay per head platform, let's unravel the fundamentals of sports betting software.
In essence, sportsbook software serves as a platform that empowers you to personalize your sportsbook website, hosted through a dedicated vendor. This vendor takes care of all the intricate back-end logistics, eliminating the need for intricate coding or web design expertise on your part. They also handle the technical intricacies of bookmaking, freeing you to focus on acquiring players, managing payments, and expanding your business.
With all your operations seamlessly transitioned to the online realm, you can bid adieu to the hassles of managing bets with old-school pen and paper. Every aspect of your bookie business can be efficiently executed with just a few clicks, offering similar convenience to your players.
The Role of a Pay Per Head Bookie
As a pay per head bookie, your relationship with the vendor revolves around paying a predetermined fee per active player on a weekly basis. This fee encompasses all the costs associated with using the service.
This payment structure ensures that you only incur expenses for the players actively utilizing your site and contributing to your revenue stream. At Ace Per Head, our fees commence at a competitive rate of $3 per player, aligning with industry standards.
In return for this fee, you gain exclusive access to a professional sportsbook website meticulously tailored to your requirements. Within this virtual domain, your players can indulge in a diverse spectrum of betting options, spanning sports, horse racing, and casino games. Furthermore, the website operates around the clock, ensuring accessibility from any device, anywhere, at any time.
When evaluating various pay per head alternatives, prioritize solutions that offer an extensive array of features. At Ace Per Head, our comprehensive toolkit encompasses:
VIP live betting
Custom prop builders
Fully mobile service
Line adjustment capabilities
Real-time bet tracker
Instant wager alerts
Support chat functionality
Embark on Your Sportsbook Journey with Ace Per Head
The key to commencing your journey as a pay per head bookie is harnessing the capabilities of top-tier sportsbook software. At Ace Per Head, we're dedicated to facilitating your success in this venture.
Our offerings encompass an extensive range of tools and features meticulously curated to cater to the unique needs of bookies and their clientele. Moreover, we facilitate seamless scalability while upholding a fair and competitive pricing model. This ensures cost-efficiency as you expand your site and services.
Are you ready to take the plunge? Explore our latest promotion, offering a six-week free trial of our platform. Unlock the unparalleled potential of Ace Per Head's industry-leading sports wagering software and elevate your bookie business to unprecedented heights.
Get Started
Ace Per Head's team is committed to helping you set up a quality PPH sportsbook online. Our team will help you set up head-to-head odds that pay off. Start a 6-week promo period for our services to see why we're a good fit.