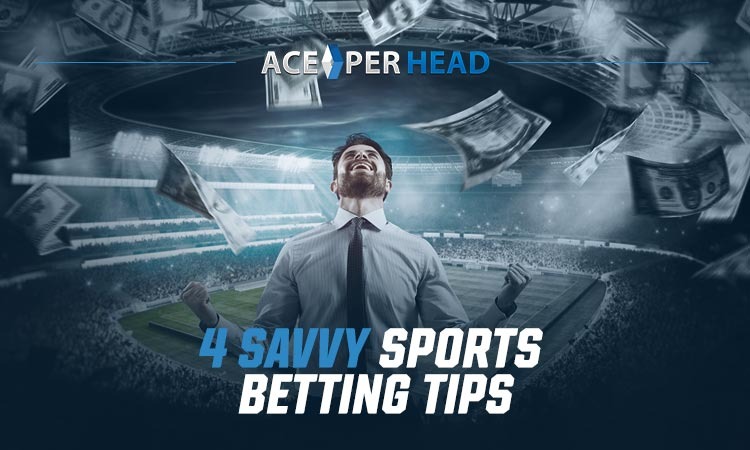 Americans wagered well over $20 billion with US sportsbooks since the Professional and Amateur Sports Protection Act was ruled unconstitutional in 2018. That high number exceeds even the most generous sports gambling revenue predictions, and industry experts predict massive growth in the coming years.
Why? Sports fans love to gamble. Laying action adds to the fun of watching a big game.
Winning is even more fun!
Placing winning sports bets isn't easy, but you can learn how with some help. Are you ready to start winning? Read on for nine vital sports betting tips guaranteed to help you win cash.
1. Start Slow
The number one reason why novice gamblers lose money is ego. Starting gamblers like to think they're Lefty Rosenthal and that they know more about sports than anyone else.
You might know a lot about sports, but you know little about placing a bet. Sports gambling is a skill, and it's learned like any other. To do it right, you have to learn the rules and practice.
When starting, you have to remain humble. Commercial sportsbooks feast on squares who don't realize they're squares and throw wild money on bad bets.
Narrow Your Focus
Visiting a casino sportsbook can be a confusing experience for new gamblers. Downloading and using a mobile app isn't much clearer. There are so many numbers and symbols to interpret. There are so many sports to bet on, too.
You can bet on the major American sports leagues like the NFL, NBA, MLB, and NHL. Then you have collegiate sports like NCAA football and basketball. Add to that a healthy mix of PGA golf, mixed martial arts, boxing, and European soccer.
There are even more options! If there's a sanctioned game being played anywhere in the world, you can lay action on it. Wading through multiple sports as a novice gambler is a way to confuse yourself.
Don't spread yourself thin. Focus on one sport, one conference, one division, or one team. Starting slowly like this allows you to maximize your research and practice your gambling skills.
Lower Your Expectations
It's all too easy to get caught up in the fantasy of big scores. Novice and leisure gamblers think about winning like it's found money. Sports betting isn't a random chance, and you earn the money you win.
Expect to lose money when you start and don't get frustrated. A crucial statistic to remember is that even the best sports gamblers win, at most, 55% of their bets. That means they lose 45%.
You are not sharp, and you're not a professional. You will lose, and that's ok.
2. Go to School
Winning sports betting is a grind. Winning requires a massive amount of research in two distinct areas. You have to research the sport you wager on, and you have to track the numbers sports betting bookies release.
There are plenty of grifters out there who'll try to sell you shortcuts for sports gambling success. There is no shortcut. Winning comes from sticking your nose in the books.
Sports Research
Depth charts, injuries, and team statistical trends are all part of effective sports gambling research. Before you place a bet, you have to know the latest news coming from any team. If you don't, you'll make blind bets that will lose.
Let's use an NFL game as an example. The Pittsburgh Steelers play the Cleveland Browns in a Wild Card playoff game. You see the Steelers as a -3 home favorite, and they have a regular-season record of 12-4.
The Cleveland Browns are on the road, and their regular-season record is 11-5. During the season, they split their two games with Pittsburgh. They lost on the road early in the season but beat the Steelers in the final regular-season meeting. Given the history of both teams, you believe the Steelers are a lock at -3.
Are they? A deeper look reveals that the Steelers started the season 11-0 but lost four out of the last five games. The Browns won three out of the final five games.
The Steelers also have several vital injuries. An all-pro middle linebacker is out for the season, and their starting running back battled knee injuries all year. The Browns are healthy.
Through your research, you now know the Steelers are not a lock at -3. This brief example illustrates the kind of in-depth research you have to do before placing a bet on any game.
Number Research
Betting lines are not uniform. Every commercial sportsbook has a staff of professional handicappers that hang numbers. They also employ sophisticated software that calculates all probabilities and trends.
The numbers a sports betting bookie releases aren't a prediction of the final score. They entice an even amount of play on both sides of the line. The sportsbooks move the number based on the amount of money bet on either side, and they do this to balance their books.
Tracking these numbers and how they move will help you make better bets. Say you see the Steelers move from -3 to -2.5. You notice that line movement and want to take the Steelers.
Not so fast. The overwhelming public majority already bet on the Steelers, so the line should move up. The line moved down because a sharp gambler placed a large wager on the Browns at +3.
Despite the number of tickets on the Steelers' side, the Browns are where the sharp bettors lay their money. You can only know that through in-depth number research.
3. Manage Your Money
Throwing stacks of money around is a great way to lose it. Winning sports betting requires a lot of research and number calculation, but you can't eliminate the luck factor. A gambler can only control so much, and even thorough research can't determine what happens during the game.
You will endure cold streaks. The only way to deal with cold snaps without losing your entire bankroll is through strict money management.
The Unit
You'll hear gamblers talk about how they placed one unit on this game or three on another. A unit is a fixed percentage of your starting bankroll.
Let's say you set aside $500 as a bankroll for the upcoming NFL season. A typical unit would be 1% of your bankroll, $5. By fixing a unit system, you're better able to calculate how much you're winning and losing. A standard stake will help you weather any cold streak and keep you from chasing.
Time Off
Just because there's a game doesn't mean you must bet on it. If you're in the midst of a cold streak or find yourself making bad bets, you must take some time off. Frustrated betting is poor money management.
Clear your head and sharpen your eye during these off-periods. Hit the books and take the time to learn where your strategy is off. Place some imaginary wagers and track where and how you're losing.
One of the least profitable methods of gambling is believing that your luck will turn. Yes, there is luck involved with sports betting. The most challenging aspect of the game is knowing your luck won't turn good on its own.
4. Make a Handicapping System
Research and handicapping work together, but handicapping is different than researching individual matchups. Think of handicapping as a season-long research project that ranks teams per week. In other words, it's a power ranking system.
How it Works
Let's say you're betting the AFC North division this upcoming season and only betting division matchups. There are four teams to track. Before the season starts, you examine all there is to know about each squad. This examination includes off-season roster moves, coaching changes, and previous season statistics.
Using this information, you then rank the four teams. As the season progresses, you track all there is to know and adjust accordingly.
Why it Works
It doesn't matter whether you're betting with a commercial sportsbook or a pay-per-head bookie. You'll often find that their numbers reflect the standings rather than win streaks or trends. Take the above example of the Pittsburgh vs. Cleveland playoff game.
The Steelers come into the game first in the standings and winners of the AFC North division. They're playing at home, and that gives them the home-field advantage. If you haven't bothered to handicap and rank the division teams through the year, you're more likely to pick the Steelers as a -3 favorite.
If you power rank, you'd see that the Steelers won only one more game through the final five. Their offense stagnated while Cleveland continued an upward trend. Your current handicapping rankings have Cleveland as the best team in the division, making the +3 pick an easy decision.
The final score of the Pittsburgh vs. Cleveland Wild Card playoff game was a 48-37 Cleveland victory. Your work paid off.
Sports Betting Tips to Win
Sports gambling is fun, but it isn't fun to lose money. Some people will offer you a shortcut to success, but successful sports gambling takes time and effort.
The best sports betting tips will only point you in the right direction. The work is up to you.
Do you want the best betting tip? You make more money taking bets rather than making them. Thanks to AcePerHead.com, starting your pay per head sportsbook has never been easier.
Try a free software demo today to get on the profitable side of the ticket window.