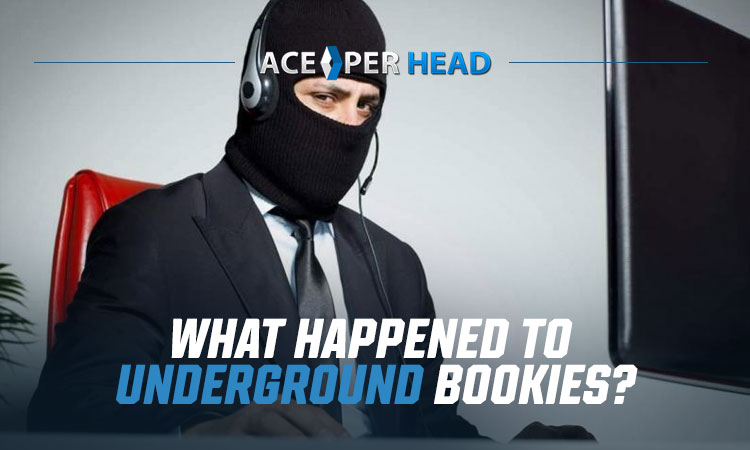 Uncut Gems. Two for the Money. Bookies.
We tend to think of high-stakes movies when we contemplate underground casino betting. But this isn't what sports betting looks like in real life as of 2023. Today, bookie laws have evolved to make sports betting regulated, legal, and simple.
Read on to learn what happened to underground bookies and why things have shifted for the better.
What Happened to Underground Bookies?
Illegal bookies still exist. They haven't vanished into thin air. However, they're mostly independent people who take cash bets at restaurants or in coffee shops.
They're not mobsters like you see in the movies. Some of them are college students; others are elderly people looking to make a few extra bucks.
Still, it's true that there are fewer illegal bookies than there used to be. This is because there are more opportunities available now that gambling is legal in 32 states and counting. People can set up legal sportsbooks online that cater to both onshore and off-shore bettors.
PPH vs Underground Casino Sports Betting
Pay-per-head (PPH) sportsbooks are fully managed bookie businesses that operate online legally. The bookmaker sets up a mobile-ready sports betting website. Casino games are also a popular add-on that helps the house turn a higher profit.
PPH gambling businesses that cater to audiences in states with legal gambling are "on-shore" sportsbooks. They're regulated by government agencies. This means you pay taxes and are subject to controls, but it also means that you're protected if something bad happens like theft or cheating.
Off-shore casinos cater to those in states without legal gambling (or to people in other countries with different gambling laws). They're in a sort of legal gray area, but you won't be subject to fines or criminal penalties for operating one online. You just won't have the same legal checks and control systems as an on-shore sportsbook, so the government won't protect you if something bad happens.
Both of these PPH website types are different from the illegal gambling facilities and operations you see on TV. No one is threatening others and no one is going to jail.
Why Is Becoming a Bookie Easy Today?
Becoming a bookie is easy today partly because it's less taboo. Reputable providers like Ace Per Head can help you set up and launch a PPH site within just a few hours. You can then start taking bets fast, and people will find you easily since there's not a lot of stigma against searching for places to gamble online.
This means that you'll make a lot of money as an agent. You'll have more funds so that you can grow your bookie business even more. Plus, with Ace Per Head's expert help, your site will always be up-to-date and your lines will be consistently competitive.
AcePerHead: A Game-Changer in Pay-Per-Head Services
AcePerHead stands as one of the world's premier pay-per-head services, a name synonymous with excellence in the industry for over 25 years. This powerhouse provider grants bookies and agents exclusive access to their software and betting lines, enabling them to efficiently manage and elevate their business operations while reaping substantial profits.
A Complete Solution for Bookies
AcePerHead offers a comprehensive, turnkey solution that sets the gold standard. Bookies can craft a full-fledged sportsbook and online casino that outshines the competition. What sets AcePerHead apart is the wealth of betting options available, far surpassing the offerings of other per-head sites.
The platform goes above and beyond with unique features, including two dynamic live betting platforms. These platforms provide a diverse array of live betting options across all sports, delivering hundreds of in-play betting opportunities for each game. Moreover, the live TV feature allows players to watch and bet on games directly from their computers or mobile phones, enhancing their gaming experience.
The prop builder feature stands as a testament to AcePerHead's innovation. It empowers players to customize their own player props and parlay them, offering an unlimited selection of player props for wagering. Players can also enjoy a virtual casino and a live casino, complete with webcams showcasing real dealers, providing an immersive casino experience.
For horse racing enthusiasts, AcePerHead offers wagering on tracks from around the world, ensuring a global betting experience.
Incorporating these diverse betting options within a single platform positions AcePerHead as one of the most comprehensive pay-per-head sites for bookies.
Unparalleled Customer Service and Website Performance
AcePerHead doesn't just excel in product offerings; they are equally known for their exceptional customer service. Availability 24/7 through phone, text, live chat, and email, they adapt to the evolving communication preferences of users. Offering real-time responses to text inquiries is a substantial advantage, allowing customers to make requests, seek advice, and get prompt assistance at their convenience.
Their mobile site features a user-friendly bet slip, streamlining the betting process. The efficiency of their mobile platform is crucial for the modern generation of bettors who prefer wagering on the go, with the fewest clicks and minimal navigation.
AcePerHead understands the significance of customization. Players can modify the color scheme and even the layout of their interface, ensuring a tailored experience that suits individual preferences. Offering multiple-player site layouts is a unique selling point that appeals to a diverse range of bettors, acknowledging that not everyone prefers the same layout.
In a market flooded with pay-per-head services, AcePerHead stands out as an unparalleled choice. They offer the most extensive range of betting options, coupled with extra features that redefine the gaming experience. Their customer service is a benchmark in the industry, combining expertise with real-time communication. Options to customize player sites and layouts reflect their commitment to versatility.
Experience the AcePerHead difference and elevate your bookie business. Join the leaders in the pay-per-head arena and unlock a world of opportunities.
Set up a Legal Sports Betting Website
While underground casino betting used to be the main way that people placed sports bets, this is no longer the case. Illegal bookies still exist, but they're fading into the past and into fiction with each passing year. Now that you know why PPH betting is a superior alternative, create your package with Ace Per Head to start becoming a bookie the right way.