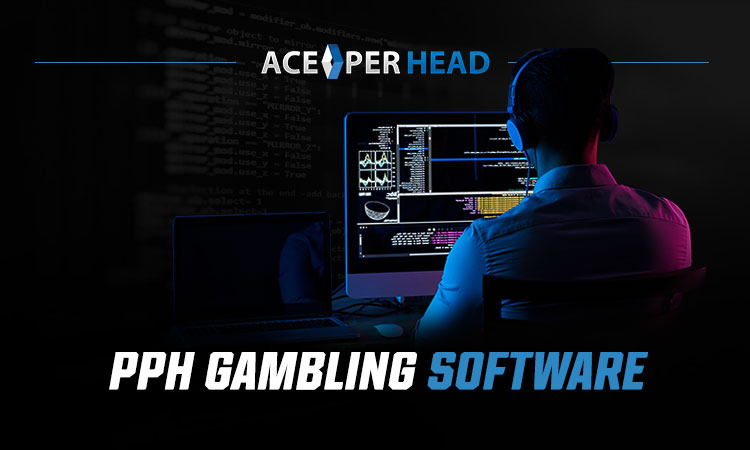 A bookie is someone who accepts wagers on sporting events and pays players when they win the wager and collects money when the player loses money on various wagers. With technology, this can now be done all online, and the best way to have the most success as a bookie is to utilize a PPH gambling company.
Pay Per Head Gambling Service
The PPH part stands for pay per head, and that is just a term used because that is how the cost is structured for the product. These pay per head companies charge bookies a small set fee per player or per head that uses the site each week. The price can vary but typically the average for a top pay per head gambling site is $10 per active player per week. This simply means that if you have 40 players, and then only 25 players actually gamble that week then the total cost for that weeks' worth of service would be $250.
Then whatever is won or lost that week by the players would be paid and collected by you and then you as the bookie would keep 100% of those profits. In the world of gambling, players can easily lose a few hundred to thousands of dollars per week, depending on how frequently they bet each week and how much they bet per game. So having 25 active players can easily earn a bookie thousands of dollars in profits each week.
These PPH gambling providers offer a fully functioning sportsbook website for players to gamble on, and all odds and lines are updated up to the second by the pay per head gambling company. There are literally hundreds of thousands of betting options posted on the site each day, and as soon as each game ends all wagers are graded immediately by the provider and all balances are automatically updated into each player's and bookie's account.
The PPH gambling service does all the work for the bookie, which not only saves the bookie tons of time, but also offers an unlimited amount of experience where bookies can contact the customer service department 24/7 and get assistance with any request, or question they may have. This allows people to become successful bookies, without having any previous experience.
While the PPH gambling service takes care of all the betting options and the website, you as the bookie can then focus your time and energy on growing your bookmaking business. This can be done by the old-fashioned way of word of mouth and reaching out to all friends, family, coworkers, schoolmates, and social media friends. Just by talking to people about your new gambling website, you will begin to see how common it is for people to want to gamble on some type of sporting event.
There is always something to bet on, because there is a sporting event going on every day of the year somewhere, and even on any holiday. So if you are looking to become a bookie then get set up with one of the top PPH gambling companies today.
The global gambling market is expected to grow from its current $465.1 billion in 2021. By the end of the year, it should be worth around $516.03 billion. Clearly, there are a lot of gamblers out there in the world, and you're in luck- you can reach every single one.
An online PPH gambling site makes you accessible to gamblers all across the globe. Here, we're going to talk about how a professional gambling website helps you to navigate sports betting with worldwide users.
Read on to learn some methods for expanding both your reach and reputation!
How Does Traditional Sports Betting Work?
If you're just getting started in the world of navigating sports bets, you're probably wondering how traditional bookies operate. If you're more experienced, you likely are wondering how you can optimize your gambling system with pay per head (PPH) services.
Traditional sports betting began in 1949 when Nevada opened its first sportsbook. Since then, bookies have been taking bets both in person and on the telephone. They then watch games very closely and track the elements that people have bet on.
This means that bookies generally spend a lot of time watching and manually recording different aspects of dozens of games. They then take payments from credit and debit cards as well as from less secure e-wallets. They must manually track how much each player has bet and how much they will win if they're fortunate.
How Can a PPH Gambling Site Get You Organized?
As you can imagine, the life of a traditional bookie gets a bit chaotic. They're going to need to watch a lot of games extremely carefully and keep detailed and intricate records of what happens. It's also a high-stress task because if you mess up one little aspect of even a single game, you may accidentally cheat your clients and damage your reputation.
A PPH gambling site is automated. It tracks all aspects of the games and sports that you offer so that you can have accurate, effortless, and easy-to-access records. Since these records will be online, you also don't need to keep track of stacks of papers or hundreds of spreadsheets.
You also will become more transparent with your clients. A custom-designed platform will show you scores, records, and relevant bets to each game from the agent end. The user end of the website will showcase the same information so that everyone is on the same page.
Why Is This Important to Both Agents and Bettors?
As you can imagine, organization and transparency make it easier for gamblers to trust you. They're more likely to choose your PPH gambling site over your competitor's. Inspiring trust within your clientele is also a great way to ensure brand loyalty and repeat bettors.
Makes Communication Easier
One benefit of an organized online sports betting platform is simpler communication. Bookies, who traditionally were forced to be at the phone 24/7, don't need to be constantly on call. People can contact you directly from the site that you design and you can get back to them at your earliest convenience.
If bettors really need to place phone calls, Ace Per Head's packages come automatically with 24/7 call center access. All of the bookies we work with can have their clients contact this call center with any inquiries about bets placed, payment methods, and possible future sports betting opportunities.
You also will have full control over your boards, lines, limits, and players. These factors set you apart from other bookies, so clients may have questions about the way that your specific service operates. Open communication and transparency eliminate any confusion.
Keeps Information Secure
Many bookies have trouble taking the leap and moving online because they're worried about security breaches. This makes sense- you have to keep the personal and financial information of many bettors under careful lock and key.
But what if we told you that moving to a PPH gambling system actually improved your security?
When you work with a reputable online bookie services provider, you get access to professional-level security tools. Our platform uses multi-factor authentication technology. We also have professionals whose entire job is to track trends in platform use, identify irregularities, and nip any possible security breaches in the bud.
Expands Your Repertoire
As we discussed earlier, traditional bookies need to keep track of every touchdown, homerun, pass, and time-out that people may have put money down on.
This is an extremely difficult and arduous process. A PPH gambling site is automated and pulls information about each game from multiple sources. This means that you can feasibly offer betting on more different sports than you would be able to if forced to keep a manual record by yourself.
Online sports betting also makes it possible for you to reach bettors in areas that you otherwise wouldn't be able to work with. People can find your website online and place bets directly within the secure software. It accepts multiple payment methods including bitcoin, so you don't need to worry about international financial conversions. You also don't need to physically meet up with or even call your clients, which makes paying them and receiving funds easier even from multiple locations.
Take a Gamble on Online Bookie Services
Now that you know some of the reasons that a PPH gambling site can help you to navigate sports betting, it's time to get started. Create your custom package to learn more about the services that we can offer for your individual needs.
We're committed to helping you build a professional bookie website that makes sports betting easier from both the agent and gambler's perspective. We offer a 6-week free so that you can learn what we're all about, so we look forward to working with you soon.