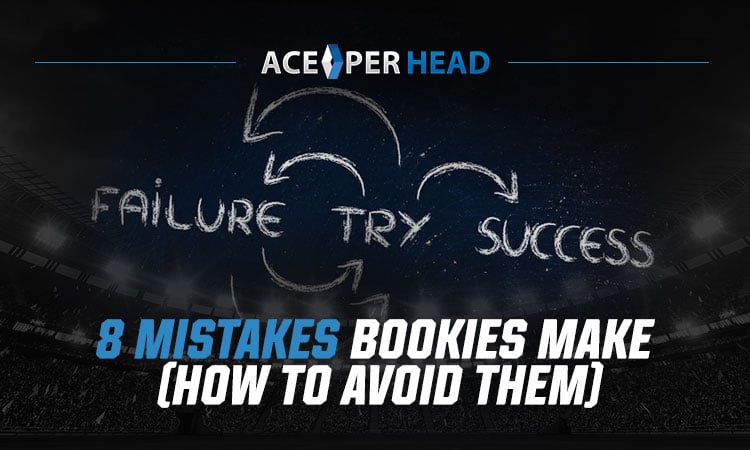 Becoming a bookie isn't hard, but did you know many beginners make mistakes that prevent them from succeeding?
In the world of online betting, you'll find a variety of sites that offer casino games and sports bets. As a bookie, you'll focus on sports betting as your main source of income. You'll be creating bets, collecting money, and providing winnings.
Unfortunately, many people have a hard time understanding how to avoid betting mistakes when they become one. Ace Per Head has worked with numerous successful bookies from all around the world, so we'll talk about the main things to avoid so you can start earning passive income.
Read on to learn about 8 online betting mistakes that bookies make and how to avoid them!
1. Choosing the Wrong Customers
When people get involved in the world of online betting, one of the most common mistakes they make is choosing the wrong customers. While you can't necessarily "choose" who your customer is, you can define your target audience.
Defining a target audience involves deciding what you look for in a customer. While your target audience will be those that enjoy sports and gambling, you can get more specific.
For example, some bookies prefer high rollers whereas others want players that'll only place bets once in a while. Depending on what your values and current assets are, your target audience will vary from other bookies'.
If you're a beginner bookie with a small bankroll, you won't want to target high rollers. Some people think that this would make it easier for them to earn money, but what happens if someone wins a large bet and you don't have the funds? You can avoid betting mistakes like this by putting together a plan.
2. Starting with Low Funds
Another common betting mistake bookies make is starting with low funds. As mentioned above, you can't handle having customers with a lot of money if you don't have much to start with.
Understanding how to avoid betting mistakes isn't difficult, but you can't become a bookie unless you have a decent amount of money to pay for things. You should aim to have anywhere between $10,000 to $15,000, though it's best to have much more than that.
With a smaller bankroll, you'll need to target those that are looking to make smaller bets. Think of the casual sports fans that only place bets during major events. That will be your audience until you grow your sportsbook.
Aside from that, you must set bets at lower values. You wouldn't want to lose your entire bankroll on a single bet, so ensure that the potential winnings come nowhere close to that.
3. Using Limited Software
When learning how to not lose money with betting, your software won't matter much. However, the software you use will affect what you can do with bets and how you interact with players.
With limited software, bookies aren't able to set complex bets that would make it easier for them to earn money. Aside from that, you'd have to spend much more time researching things and entering information.
Price per player software eliminates the need to do most things manually, so you should find a PPH service that works for you. Soon after implementing pay-per-head services, you'll have a much easier time growing and managing your sports betting platform. 
4. Making Unfavorable Bets
Setting odds can be one of the hardest things you do as a bookie, but it's necessary if you'd like to earn money. Out of all the online betting mistakes, you should avoid making unfavorable bets at all costs because it'll only lose you money.
When you become a bookie, you'll be expected to have a ton of sports knowledge that'll help you set odds. However, you can't set reasonable odds if you don't know which teams perform the best and who the good players are.
Before you start making bets, you should watch a lot of sports until you get a better understanding of how good everyone is. Consider picking a single league and researching it as often as possible. The more you know about a sport, the easier it'll be to earn money with bets.
5. Managing Everything Solo
Becoming a bookie generally requires a lot of money, but that shouldn't prevent you from hiring people to help you. Unfortunately, many bookies end up starting things solo and have a hard time attracting players or organizing bets.
Some of the main people you'll need to hire if you want to avoid online betting mistakes are customer support representatives. These are the ones that'll be dealing with players whenever they have issues with a bet or the platform.
Aside from hiring customer support, you should consider hiring someone that can help you set odds and manage the sportsbook. This would give you more time to focus on other things for your online betting site.
You could also hire someone to help you with advertising, which is a crucial part of attracting players. Whether you'd like to create social media accounts or list ads, having someone that knows about SEO and advertising trends will ensure your money's being used optimally. 
6. Offering Few Games
Sports betting itself can be considered a game, but it shouldn't be the only thing you offer on your platform. To attract the most players, you'll need to include casino games in your services. This will give players something to do between bets, letting you earn more money.
Some of the most popular casino games are slots, poker, blackjack, and roulette. If you use pay-per-head software, you may be able to implement these games within minutes as they're often included.
The casino games you offer should be accessible via your website and sports betting software. Many bookies offer downloadable platforms to give players a more seamless experience, but being able to access everything on a website is much more convenient.
No matter what you choose to implement, ensure that players will enjoy it. You can get feedback from social media through your advertisements or regular posts.
7. Providing Support for One Language
Before you start hiring those customer support reps previously mentioned, you should think about what to look for in them. While you'll need people with good communication skills, having just that won't ensure that your players are satisfied.
You can avoid all the betting mistakes you want, but not providing multi-language support will prevent you from expanding quickly. Because sports betting is legal in various countries, you can get players from all around the world.
When foreign players use your platform, they may feel neglected if the only language you offer is English. Because of this, hire employees that speak Spanish, Italian, and other common languages.
Not only should your customer support reps speak these languages, but your platform should also have these languages. You can implement a button that lets players change the language whenever they want, though you'll need to hire someone that can translate everything accurately for you.
8. Not Keeping Up with Sports
When it comes to avoiding online betting mistakes, bookies often offer bets for too many sports at once. However, offering a ton of bets without having sports knowledge will guarantee that you lose everything.
Becoming a bookie requires sports knowledge, so you'll need to learn all you can before you make bets. Knowing as much as you can about a sport will require you to enter that sport's world. You'll need to watch it often, talk about it with fans, and hear opinions from professionals.
Keep in mind that players will be actively looking for common bookmaker mistakes, such as a lack of sports knowledge. They'll be taking advantage of easy bets, so avoid setting anything unless you know you can earn money from it.
This is why we encourage you to hire others to help you. Having other people you can bounce ideas off of and talk about sports with will make it much easier to keep up with things. You can also get a second opinion before you decide to go through with something.
Start Making Money with Online Betting Today
It doesn't matter what kind of online betting you'd like to offer, you'll need to avoid all of these mistakes if you'd like to profit. Fortunately, you now know how to not lose money with betting as a bookie.
While you won't be the one placing bets, you'll be responsible for creating them. Avoid these common bookmaker mistakes will ensure that you earn a ton of money with your sports betting platform.
Sign up for our services today to learn the same bookie strategies that all professionals use.