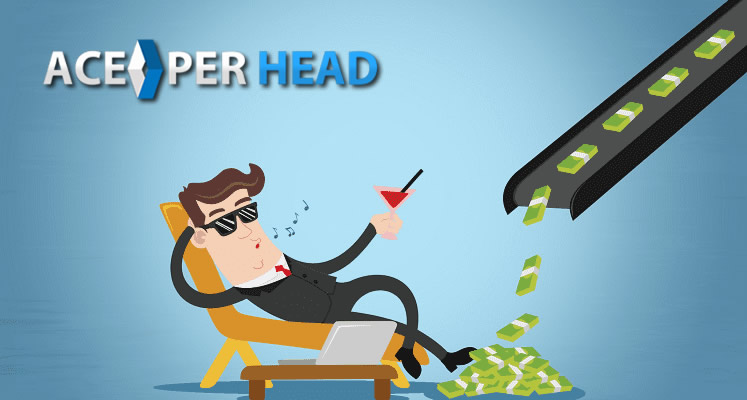 Are you a sports buff?
Are you decent with numbers and have an outgoing personality?
If you answered yes to these questions then I am about to blow our minds with the perfect business for you to own.
It Is Time to Enjoy Work
Sports betting venues are some of the most profitable online businesses in the world right now, and you can become a bookie agent with a very small investment and little to no experience.
When you sign up with www.AcePerHead.com, you get access to a state-of-the-art online betting platform, offering tons of betting options from all major sports. If you want to have your own brand you can get a customized website built just for you.
Game odds are available online 24/7 and they are updated in real-time, but your players also get access to a toll-free number where they can call in to place their bets if they are unable to access the website. AcePerHead.com will take care of all the wagering details, their experienced line managers will oversee posting game schedules, and opening lines, and updating them as the bets come in to ensure you receive the highest returns possible.
The system will provide all the reporting necessary for you to manage your operation in real time from anywhere in the world. The complete betting suite provided by AcePerHead is designed to cut costs, increase profits and reduce the time you spend managing your online betting business, giving you the opportunity to enjoy your new-found success.
Why Should You Consider Becoming a Bookie Agent?
Becoming a bookie agent offers you the best and fastest way to generate profits, the cost of setting up your business is incredible if you are willing to start small and work towards creating your own brand. Owning a bookie service is something you can do while still holding a day job, but don't worry, you'll be working on your own in no time.
It is estimated that up to 97% of sports wagers are placed on venues outside of Las Vegas, and this percentage represents billions of dollars a year, while the numbers are not official, from what is known there has been an increase of at least 11% this year in comparison to 2018 so far, meaning the time to jump in is now while the industry is experiencing an upward trend, and the market is up for grabs.
Don't worry if you don't have experience running a bookmaking service, the complicated aspects of the day-to-day handling are taken care of by Ace Per Head.com, leaving you time to focus on finding customers and handling payments.
Still Unsure if you can Run your Own Business?
Don't worry, for a limited time Ace Pay Per Head is offering a 6-week free, so you can test your abilities with little to no risk, all you need to get started is a list of players, they will accept you even if you only have 1 player. Remember, you are responsible to pay and collect from your players so make sure you have money to do this, the advantage is you can set up your own limits for each player so you know they won't get in too deep as to be unable to pay you at the end of the week.
What are you waiting for, give it a try at the most effective online betting platform and turn your passion into profits!