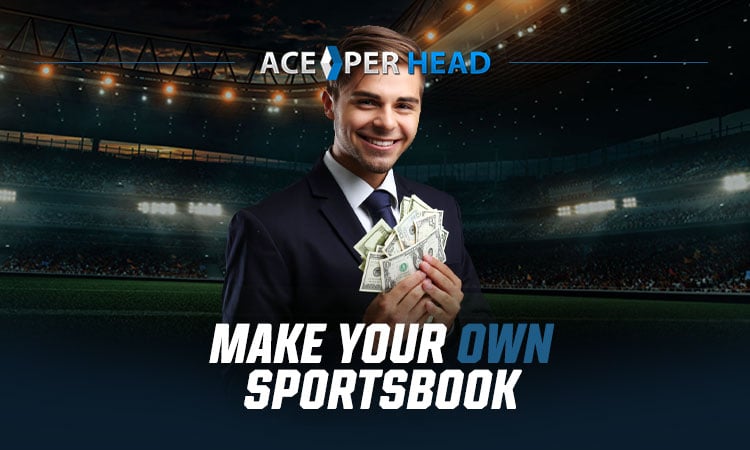 One of the great things about running your own sportsbook is that you don't have to answer to a supervisor anymore. You decide when you want to work; you decide how much you want to work. You decide when you've made enough money; you decide when it's time to take a vacation.
The problem for a lot of bookies is that opening up a gambling operation turns into more hours of work than the job they left behind. The worries associated with a constant stream of text messages and phone calls can turn days into 16-hour periods of stress lasting late into the night. By choosing the right sports betting software solutions provider, though, you can turn your sportsbook into a revenue stream that you manage for a couple of hours a day and then wait for the money to pour in.
1. Stop Worrying About the Money
AcePerHead.com has become one of the betting software solutions leaders when it comes to making sure that bettors and bookies have no concerns about the security of their funds. We use a third-party payment provider with state-of-the-art security protocols to ensure that no one can hack into the accounts that you and your bettors link to the page.
So if you're thinking that running a sportsbook means keeping track of different piles of cash, think again. The funds sit safely in your account until it is time to pay out winnings to your clients, and then the money moves securely into your clients' accounts. The transactions that you really want to see – where the client ends up paying you – take place just as securely. You will not have to worry about chasing down people who haven't paid – just set your credit limits to an appropriate point so that your bettors know that they can't put down more wagers until they pay for the ones that they owe on now.
2. Take your Sportsbook Seriously – but Then Let your Platform Work for You
When you take advantage of betting software solutions, you automate all of the tasks that bookies in the old days all had to do by themselves. Each time a game ends on which you are offering action, the software automatically tallies the results, so you can go to the site and see, in real-time, who won and who lost – and how much money needs to change hands. Your overall stats also update in real-time, so you can track how the odds you set on different games turned out.
This will save you a ton of time in comparison to bookies still using paper and pencil to run their operations. Calculations take place automatically. You also don't have to hang by the phone and wait for calls – when your bettors want to place bets, they just go to your page and lock it in without reaching out to you. You might get the occasional question, but you decide how often to pick up your phone and check your messages. If you decide that it's time for a long, quiet family dinner, then you don't have that ringing going on in the background.
This doesn't mean that you can stop marketing, of course. Once potential bettors come to your page, they will be impressed by the options and versatility that the AcePerHead.com platform offers, but you also need to customize your page so that it has your own identity and personality – your sports that you want to offer, the unique side prop bets that you want to put out there. Those are the touches that will set your page apart and bring you business.
3. Enjoy the High-tone Look that your Book will Have
There was a time when you could get by with a website that looks like Craigslist and still make money. However, it doesn't make a lot of sense to rely on that sort of website today. Even a very basic platform such as WordPress looks much more professional than Craiglist, and if your site does not look like you know what you are doing, you will not get any new bettors coming to your page.
Betting software solutions comparable to what Ace Per Head offers to give you an even footing with the toniest books from Atlantic City and Las Vegas. Depending on how you customize your page, you can look as impressive as Bellagio's sportsbook. That's a great opportunity because that gap between your own resources and those of the casinos is likely to be quite significant – but the gap between your web pages does not have to be.
The competition on the Internet is considerable – and almost infinite. Anyone with a computer, or even a smartphone, and access to wireless Internet, can set up a sportsbook, as long as they have the funds to cover winnings for their bettors. However, people who try to put a bargain-basement website come across as bookies who don't have the cash to pay out when people win.
You don't want to be one of those books. Take advantage of the betting software solutions that AcePerHead.com can offer. This means that, in exchange for a weekly fee per active bettor (called "pay per head"), you have access to a platform that allows you to have a website that looks and feels like the top casinos, complete with mobile optimization and with full payment security.
Ace´s Benefits
Ace Pay Per Head offers a 6 weeks free promo so that bookies can experience the full benefits of the site while deciding whether the investment is worthwhile. We've found that offering the promo brings in new bookies in overwhelming numbers because their customers enjoy all of the features that we provide. When it comes to fees, there are competitors that charge less for services, but they don't come close to providing the quality that we offer in terms of platform security, round-the-clock customer service, and bandwidth for those times when all of the college football games are coming to an end but the World Series game is about to start. Give one of our sales reps a call today to find out how we can help your sportsbook grow!