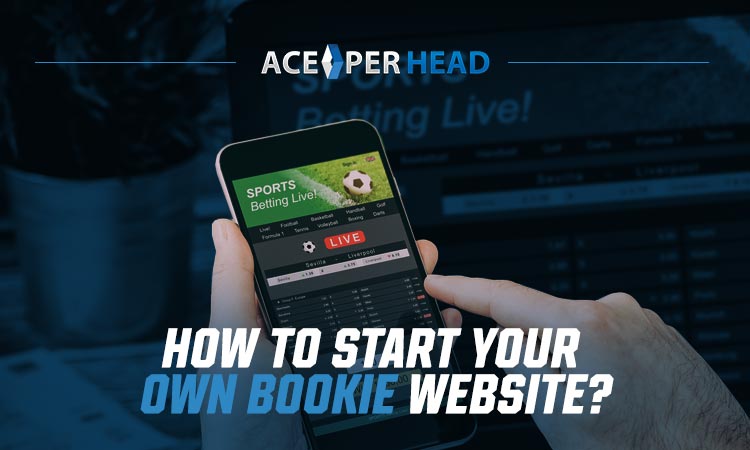 Since there are between 1.6 and 1.9 billion websites on the world wide web, it's critical that your sports betting page stands out. You need to showcase the winnings that gamblers can earn, how effective your customer service is, and what brand differentiators make betting with you more worthwhile than your competitors.
This means that building an online presence when you start your own bookie website is more important than ever.
Here, we're going to give you some tips and tricks on how you can create a sports betting platform that hooks potential clients. Read on to learn what you need to do to ensure your success.
Talk to a Pay Per Head (PPH) Provider
The first step towards building a professional gambling website is to talk to the experts. This may sound counterintuitive- don't you want to prepare what you want before consulting with a pro?
While there are many benefits to thinking about your website before consulting with experts, don't get too involved. You need to know how PPH platforms work before you can understand how to set one up.
These sites are essentially platforms for sportsbook agents to hold their operations on. They're called 'pay per head' or 'price per player' because you pay a small fee (around $10) for each person that you sign on. This is in lieu of a flat fee that may cost more than you're using.
PPH platforms are awesome because you can scale them based on the season. Around large sporting events such as the Super Bowl, you'll have more players than you will during the off-season. PPH sites only charge you for what you're using so that you can grow.
Because they're niche websites- non-bookie businesses can't use PPH- it's critical that you understand the capabilities of these sites before coming up with a full-on design plan. Talking to an Ace Per Head employee will let you learn what you can and can't do with a PPH bookie platform. You can then base your website around these abilities and restrictions.
Why Use PPH?
But why should you choose a pay-per-head platform over a non-niche web design service?
PPH websites provide you with a huge number of awesome gambling-specific services. For the low price of $10 per player (or $20, if you want additional features), you'll get:
Automated updates to the platform
Fully-managed services
Troubleshooting and disaster recovery
Automatic score tracking for multiple sports and events
Integration with other platforms
24/7 customer support for you and your clients
Top-of-the-line security features
Bitcoin payments (from you to us)
Bitcoin payments (from your clients to you)
Before you can get started with these features, though, you'll need to work with us to build your website.
Look at Other Successful Websites
The first thing that you should do after determining what your PPH platform can do is to look at other bookie webpages. Make sure that the agents that you're looking to emulate have found success in the market. After all, you need to emulate successful role models if you also want to find success.
Look for trends in what other agents are doing with their websites. Ask yourself:
What design features are working for the page?
What design features detract attention from core betting services?
How does the bookie make the page clear and easy to read?
How transparent is the bet-placing part of the website?
What makes scores, bets, and limits clearly accessible to players?
How often is branding information (logos, titles, slogans, etc) incorporated into the website?
Are there keywords and phrases that you're noticing the best sites use often?
Answering these questions will let you know what you should imitate. This will help you compete with the successful agent websites that you have been looking into. A huge part of competing with other businesses is beating them at their own game. Remember that and you'll sign on more players in no time.
Optimize for Mobile Devices
Currently, around 50% of people around the world access the net-primarily via smartphones. By 2025, experts expect that this number will go up to around 72%. Not only that, but these users will be using mobile devices to get online exclusively– never desktop.
Because we're moving towards an increasingly mobile world, it's critical that your sports betting platform is accessible via smartphones and tablets. In fact, it's more important that these devices can get onto it than desktop users. Most online gambling is done via mobile-friendly websites and secure apps, after all.
Ace Per Head offers fully mobile platforms that you can customize and design. PPH software is designed to keep up with online sports betting trends, and going mobile is no exception.
When building your website, make sure that it's easy to scroll and browse from small screens. Talk to our experts about single-click navigation, searchable score tracking, and easy betting via a linked bitcoin eWallet.
This is a simple way to start your website off on the right foot.
Consider Current Trends
When optimizing your website for mobile devices, consider current trends in design. If your site looks tacky or out-of-date, people will believe that you're sloppy. They'll think that you don't care about keeping your sportsbook and portfolio in good shape and are therefore much likely to trust you with their valuable bets.
Make sure that you incorporate:
Minimalism and flat design
Simple colors (blue tends to be a safe bet since it's the most popular color)
Bold, clear text
Infographics and visual graphs in lieu of text-based data
Video content about why your sportsbook is the best (73% of people rely on video when deciding whether to work with a business)
Easy eWallet linking and bitcoin accessibility
Remember that a sportsbook is a business above all else. You need to treat it as such when designing a website. Look into design trends that people are using across various industries.
However, take what's popular with your target demographic into consideration- gamblers tend to be looking to win big, enjoy adrenaline rushes, and be in high-paying occupations. A fast-moving and classy website is your best bet.
Ensure Transparency and Accessibility
PPH platforms make it easy for you to be transparent with bettors. You can set the platform up to link an individual player's bets with your agent end. The site will prominently display the bet to both you and the player.
This makes it easy for you and your clients to track how much money is down on a specific sports game, event, or player. It also keeps everyone on the same page as to who owes who money. This ensures that there's no debate as to whether or not the player has won or not.
Many sportsbook agents choose to display current bets and the events that these bets were placed on on the player homepage. This makes the information extremely accessible to the bettor and you can also easily look it up.
Add Multiple Payment Methods
It's important that you allow bettors to select the payment method of their choice when placing a bet. eWallets and debit cards should always be an option. They're traditional and everyone trusts them.
However, it's also critical that you allow bitcoin payment options on your sports betting site.
Keeping people's privacy intact is extremely important in the gambling industry. Because of this, Ace Per Head encourages you to pay us in bitcoin. This, along with the fact that we assign everyone we work with a random number and use it instead of their name, keeps you safe.
Providing the same opportunity to your players increases your reputation and gives you the chance to draw more people in. Since cryptocurrency is secure and untraceable, it also keeps its information safe. In the unlikely event of a website breach, hackers will gain access to zero personal information since there's none stored in your PPH platform.
Start Your Own Bookie Website Today
Now that you know how to start your own bookie website and make sure that it succeeds, it's time to get started. Schedule an agent demo of Ace Per Head's platform to see the merits of using our services. We also offer a player´s demo so that you can discover what the software looks like from the perspective of your bettors.
Once that's done, reach out to our experts for a free six-weeks free of PPH technology. Since we're committed to helping you become as lucrative a bookie as possible, we look forward to hearing from you soon.