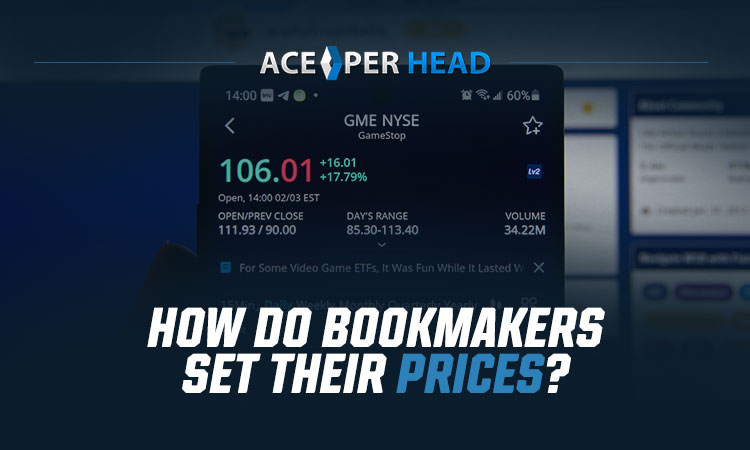 The sports betting world would stop spinning on its axis if not for bookmakers. Often referred to as bookies, bookmakers are the people responsible for coming up with the betting odds for sporting events.
But as you might imagine, bookmakers don't just pull betting odds out of thin air. There is a science to setting betting odds that will attract a lot of betting action on sporting events.
If you haven't ever had betting odds explained to you, it would be worth learning more about them. This will be especially true if you're someone who is thinking about becoming a bookmaker yourself and setting bookie prices.
Here is how bookmakers set betting odds.
They Begin by Doing Their Research
As we just alluded to, bookmakers don't come up with betting odds out of the blue. They do their fair share of research on sporting events prior to setting betting odds.
They'll consider many different factors throughout the course of their research. They'll take some of these things into account:
How teams have fared against one another in the past
What kinds of statistics teams are putting up at the moment
Player injuries that teams might be dealing with
Weather forecasts for a game between two teams
And so much more
Bookmakers consider sporting events from every possible angle so that they're able to generate betting odds that will capture people's attention. They don't get betting odds right every time, but they do hit the mark more often than not.
They Adjust Betting Odds to Their Benefit
In a perfect world, bookmakers want 50% of people to bet on one team and 50% to bet on the other team. Why? Well, it's because they're able to adjust their betting odds slightly to create a margin that makes it almost impossible for them to lose when they get equal action on games.
After having betting odds explained, you'll begin to pay attention to them more, and you'll find that many of them will be something like "-110." This means that a sports bettor will need to bet $110 to win $100 on this bet, and a bookmaker will pocket $10 from each bet that's placed as long as sports bettors wager on teams evenly.
They Change Betting Odds Over Time
One thing you'll notice if you monitor sports betting odds is that they change all the time. The best bookmakers will adjust the odds in the weeks, days, hours, and even minutes leading up to sporting events based on how people are betting on them.
They're on a mission to attract bets on both teams participating in a sporting event, and they'll move their betting odds to do this. So you shouldn't be surprised if you see bookmaker prices going up and down accordingly.
How Much is Ace Per Head?
When it comes to sports betting, the right software makes all the difference. So, how much is Ace Per Head? Find out in this guide.
Are you interested in becoming a sports bookie so that you can cater to clients who want to bet on sports? There has never been a better time to do it.
Recent surveys have shown that about 20% of people have taken part in betting on sports over the last year. And that number is expected to skyrocket in the coming years as sports betting becomes even more universally accepted than it already is.
Ace Per Head bookie software can help you attract clients and make it easy for them to figure out how to bet on sports. It's why you should invest in it now. Here's how much it'll cost you.
The Cost of Ace Per Head Bookie Software:
One of the first things you're going to love about Ace Per Head bookie software is that it's completely customizable. You can use this bookie software to set up a sports betting website for your clients that is customized to your needs.
With this in mind, the price you'll pay will fluctuate depending on many factors. But even still, you may be able to get access to this betting software for as little as just $3 per head. It's what makes Ace Per Head one of the leading names in sports betting software.
What Does Ace Per Head Includes?
Because of the extremely low cost of Ace Per Head sportsbook software, you might be under the impression that it won't provide everything you'll need to run a successful betting shop. But this couldn't be further from the truth.
You'll be able to get your hands on everything you'll need to keep your clients betting on sports. From a custom website to the latest sharp betting lines to a 24/7 call center with friendly customer service agents, Ace Per Head will give you all the things it'll take to be a sports bookie.
How to Get a Free Ace Per Head Promo
Want to put Ace Per Head to the test before you begin using the best pay per head software all the time? You can get a 6-week free promo to see how Ace Per Head works without making any long-term commitments.
This promo will enable you to see what makes Ace Per Head bookie software so special. It won't be long at all before you're more than willing to invest in this betting software to make your life as a sports bookie so much easier.
Try Ace Per Head Bookie Software Today
The best way to see whether or not Ace Per Head sportsbook software will be worth it to you is by trying it out for yourself. Our 6-week free promo will put you in a position to play around with this betting software to see if it fits your needs.
From there, you can find a sports betting pay-per-head package that will work for your sports bookie business model.
With Betting Odds Explained, Get Your Sportsbook Going
As an independent bookmaker, it's going to be up to you to provide your clients with betting odds. But now that you've had betting odds explained to you, you can see how much work will go into generating these odds.
Fortunately, you won't have to worry about coming up with bookie prices yourself when you invest in pay per head sportsbook software through Ace Per Head. Our bookie software will come with everything you'll need to take bets from clients, including betting odds.
Check out our pay per head demo to get more information on how it works.