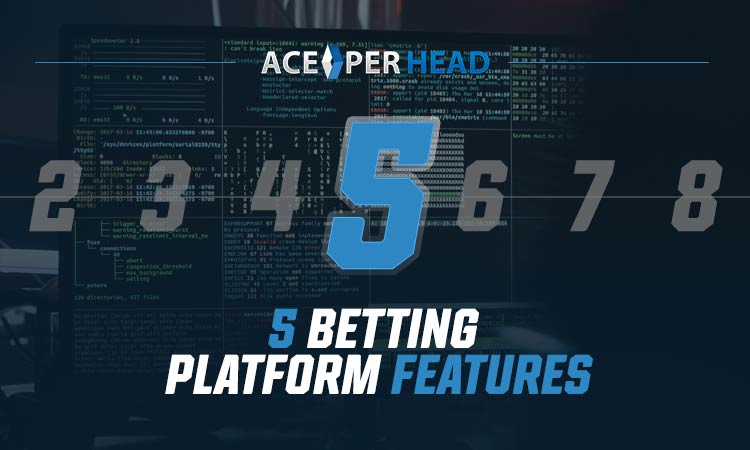 Sports betting. It has taken the world by storm with more and more people getting in on the action.
The global sports betting market is expected to be worth $140 billion by 2028, so more and more sportsbooks are trying to get a piece of that pie.
With more competition, you need to make your that your sportsbook is the best that it can be if you are a new bookie, so how can you do that? These are five betting platform features that every sportsbook should have.
1. Wide Variety of Sports
The first thing that you need on a betting platform is the biggest variety of sports to bet on that you can handle. Why? Because, the more sports that you have available to bet on your sportsbook, the wider your potential new bettor audience is.
Let's use soccer as an example. It is one of the most popular sports in the world but America's league, the MLS, would not be enough to satisfy the entire soccer betting audience out there.
You need to have more leagues available in that situation such as the Champions League, the Premier League, Serie A, and of course, Liga MX.
Having international sports leagues on your platform can even give you a new audience in an area with a different local league.
Last year, the MLS drew about 500,000 viewers for one of their bigger games of the season. In comparison, some of Liga MX's bigger games drew as many as two million viewers in, which means their best is four times better than MLS' best.
Basketball is another sport where you could have good alternatives to bet besides the NBA, with the Euroleague and the Chinese Basketball Association being two of the more popular alternatives. There may be fans of these leagues in your target audience and if you have these as available games to bet on, then you are increasing the number of bets and the number of bettors on your platform.
2. Having Multiple Bets Available
With having more sports and sports leagues available, you also want to have as many different betting options available in your sportsbook as possible.
When it comes to betting on the typical games, the most popular bets tend to be the point spread and the total amount of points (over/under) scored in a game. But, some bettors may want to look for other options, particularly if they play fantasy sports and are looking for some "props" bets.
Some sportsbooks have more props bets available than others but these can be a great way to get more bets and bettors on your platform while giving your sportsbook a bet that tends to have one of the best house edges out of any available.
For example, let's say that you have the Kansas City Chiefs playing the Baltimore Ravens in Kansas City and the Chiefs are favorites by seven points. In that situation, you may be undecided about which side to take there, you may not want to place a bet at all if you do not have something available.
This is where alternative bets like props come in, that can attract a bettor that thinks Lamar Jackson can run all over the Chiefs' defense. They can bet him to run for over 100 yards and boom, you have a bet on the game on your platform.
Another example would be having teaser bets. Most sportsbooks let bettors adjust spread lines by six points but it might make the odds go from -110 to -600.
However, the catch tends to be that bettors need to bet a parlay there, and having that available on your platform would allow you to possibly have more money invested on bets that favor the sportsbook.
3. A Good Bonus
Let's face it, there is a lot of competition out there these days for sportsbooks to draw new bettors in, and one way they try to get the edge over their competition is to give new users a welcome bonus. This not only helps draw new customers in but also keeps the money on that platform.
For example, one sportsbook may give you a free bet worth up to $50. You can use that $50 to bet and you either lose the bet but not your own money or you have $100 in free money that you must now use on that platform. Then, when the bettor runs out of money, they may just stay on the platform because they already have gotten used to it and have grown accustomed to it.
Another example of a bonus would be to match a bet up to a certain amount that you make. Some sportsbooks will match up to $1,000 here and that means that if you offer this, you will get $1,000 of a bettor's money invested on your platform whether they win or lose.
Most rules under this system include having to spend the money you win or lose on the platform before you can take any out, so it is another good opportunity to get more money into your sportsbook.
4. Live Updates
One of the most important features of a betting platform is to have live updates available for games. This is for two reasons, with the first being for bettors to see exactly what the situation of any given game is.
The second reason is that your odds need to be updated regularly to reflect this. Having live betting available can dramatically increase the number of bets that you might see in one game given the number of things that can change in just one play.
However, as a bookie, you are going to need the right sports betting software to make sure that your sportsbook is putting fair odds to attract the bettors and fair odds where you can still make money off of the game.
For example, let's say that in the same game situation as above, the Chiefs go down 14-0 early to the Ravens. If the Chiefs started as seven-point favorites, not many people are going to be willing to back them up with a live bet at the same spread.
However, you would need to be careful of avoiding too drastic of a shift either, especially if in this scenario, the Chiefs average over 30 points per game and can score quickly. You would need software that can accurately measure what you could expect from them going forward and adjust based on who is placing bets at the time.
So, instead of offering say a +7 line for the Chiefs, you can lower the line down to +2.5. This would be enough to tempt bettors to back the Chiefs and draw enough money on both sides where you will make more profits on the game as a bookie.
5. Customer Support
Finally, there are obviously going to be issues that come up as you are taking money from more and more bettors, so it is best to have a customer support team ready to handle those issues. If these are not managed properly, bettors may grow frustrated and take their money to another platform if they feel like their issues cannot be resolved.
In the entire world, 66% of customers aged 18-34 have higher expectations for customer service from a business. So, it is important for you as a sportsbook to meet those expectations, and a pay-per-head service can help provide you with a team here if you do not have one of your own to dedicate to this.
Why is customer support important? Because it allows bettors to know that you care about their issues and care about having your sportsbook be the best that it can be.
An example could be a banking issue where there is a delay for a money transfer, there could be a glitch on the website where people are having a hard time seeing the money left in their account, which can grow concerns about the money being gone.
Customer support can help you get ahead of these issues and put the customer's mind at ease before things get out of hand. If a customer trusts your business, they are not only more likely to do business with you but also spread the word and recommend your sportsbook to their other friends and family who might bet on sports.
Master These Sportsbook Platform Features
These are five of the most important betting platform features a successful sportsbook needs. But, what if you are a new bookie that does not know how to deliver these features to bettors?
No worries, we are here to help. Use our pay-per-head service and get six weeks free today!