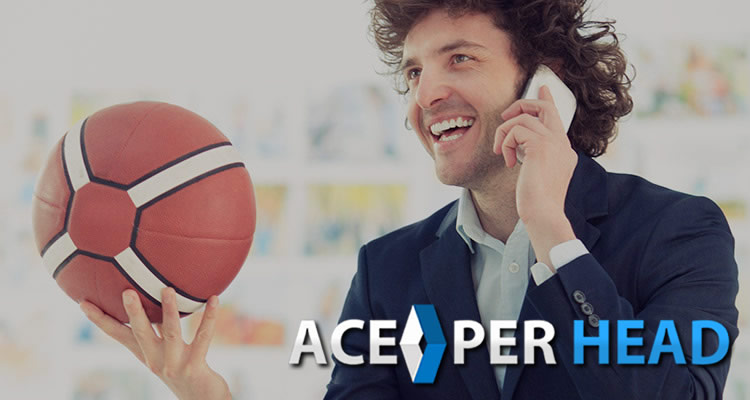 Behind every successful pay-per-head bookie site is a team of sportsbook software providers who have put together the code to keep the site up and running. From the perspective of the bookie, the best sites make it easy to swap out props, change odds, add and remove sports on the fly, and change credit limits, all from the comfort of a chair while scrolling on a smartphone. On the other side of the industry are the providers – and understanding the challenges that they face can give you insight into what top sites like AcePerHead.com do to keep your business up and running.
When betting sites peak, sportsbook sites face the same strain as retail sites
You might think that it's hard for your favorite big-box retailer to keep their store's website running smoothly during Black Friday, Cyber Monday, and the last two weeks of the calendar year – the high sales times before Christmas and then the returns (and the sales) before December 31.
Sportsbook software providers face similar crunches, although not always at the same time as the major retailers. Consider the Aintree Grand National Horse Racing Festival. This is one of the most well-known horse races in the world, and bookie software providers have to brace their applications for the immense wagering volume that comes through. Of course, this festival hits its peak right at the end of a long Saturday afternoon in the autumn, just as a college football Saturday is coming to an end as well. The bets can pour in by the millions on days like that, and companies like www.AcePerHead.com have to process all of those bets for all of their bookies. Maintaining that capacity is a challenge that the best providers meet.
Performance for a Betting System Goes Well Beyond Taking Orders
There are few businesses that have the volume, around the clock, that sports betting sites face. Sportsbook software providers do not face some of the challenges that are part of other industries, such as linking orders to physical inventory that needs to be shipped. However, the pricing on sports betting can change every few seconds, particularly when odds are changing quickly as in the case of pari-mutuel betting.
Sports betting sites also have a product mix that changes often, as one match ends and another begins. While all of this is going on, wagers that have concluded either need to be cashed out or settled – and new bets need to be taken. The goal for an elite pay-per-head sports betting site such as Ace Per Head is paying winners within a matter of minutes after the final result of a wager.
For the bookie, this means that the software needs to run calculations of liabilities so that the bookie can see if the losses are mounting. For the customer, this means that the website needs to operate efficiently so that it is possible to make up-to-the-minute bets on the latest matches. There is nothing static about the data on a sportsbook.
The Data Involved in a Sports Betting Site is Immense in Volume
In a pari-mutuel betting scenario, the odds can change two or three times per minute for an upcoming race. This means that the industry has come a long way from a guy updating odds on a chalkboard at the race track, with assistants to move about the racecourse and ensure that everyone knows the latest odds. Now the sports data that is required to run a sportsbook comes from all over the world, and the expectation that sportsbook software providers face is that the data will be updated instantaneously.
Mobile-friendly Sportsbook Sites are a Must in Today's Market
If you are still surprised by the expectation that any sportsbook site has to be mobile-friendly, then you don't understand consumer behavior. For any business that expects to make money from consumers, the website has to be optimized for mobile access. Sports betting software providers understand that the sites they build must also contain code suitable for access on a mobile phone.
Several technological breakthroughs have made it possible for top pay per head sportsbook sites such as Ace Per Head to make all of their features available on mobile sites. Such security features as TouchID provides one-swipe authentication of accounts, which means that all it takes is fingerprint verification for payments to take place from mobile phones.
The Customer Experience is the Most Important Element
Sportsbook software providers realize this truth, which has been an essential part of sales as long as companies have been trying to get customers to purchase from them. When the player visits your sportsbook, they need to find a page that is easy to read and navigate. Setting up their account should only take a matter of minutes. The pages should be attractive without bombarding the user with too much stimulation in the form of graphics.
It is important to consider that the bookie is also a customer – of the sportsbook betting site. AcePerHead.com understands this, which is why we invest so heavily in sports bookie software providers who keep the website optimized, making regular updates to ensure ongoing quality and excellence. We maintain customer service availability around the clock because we recognize that sports betting never closes. Somewhere on the planet, there is almost always a sports event taking place that offers action, and setting the action on sports betting often takes place during the middle of the night.
Why Ace Per Head?
Ace Per Head is an industry leader when it comes to establishing and maintaining a high-quality customer environment for bettors and bookies alike. If you have not yet moved your sportsbook online, take advantage of our free trial. If you already have a page up and running somewhere else, take a look at what we have to offer. We'll give you and your customers a free trial as well – we believe you will switch to our page, so the pay-per-head free trial is worth the investment.
Reach out to one of our PPH sportsbook specialists today!