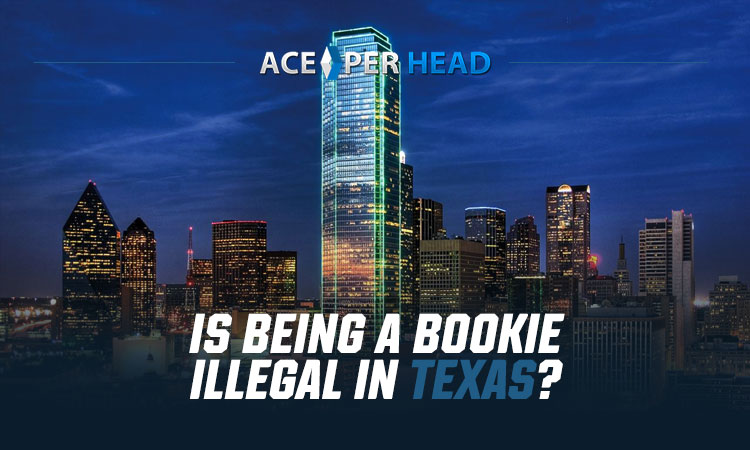 As someone who loves watching sports and making money, you've likely asked yourself if online gambling in Texas is legal. So, what's the verdict?
People all around the world engage in sports betting in various ways. Bookmakers set up sportsbooks to earn money from players, and players place bets to earn money from their predictions. Yet, not knowing about local laws can cause you a world of trouble.
That's where Ace Per Head comes in!
Here at Ace Pay Per Head Bookie Services, we help both bookies and players get the most out of sports betting. To help you, we'll outline the legality of online gambling in Texas so you can determine whether bookmaking is right for you.
Read on to find out whether being a bookie is illegal in Texas!
What the Law Says About Online Gambling in Texas
Texas happens to be one of the strictest states in regard to gambling laws, making it extremely difficult for a bookie to find success there.
The law clearly states that gambling is a criminal offense if one is found making bets on the result of a game or the performance of a player. This alone prohibits most sports betting activities.
The law also states that one cannot bet on games played with cards, dice, balls, and more. However, one can participate in the state lottery and place bets on horse races.
This penal code outlines the ins and outs of Texas gambling laws, so it's worth looking at if you reside there and are considering becoming a bookie.
How You Can Run a Legal Gambling Business
If you want to start a gambling business but live in Texas, the simplest way to do so is to make it operate out of another area. For example, one can reside in Texas and base an online sportsbook out of Costa Rica.
You can offer sportsbook services to those that live in Texas, but you can't allow them to wager anything. For example, if you have an online sportsbook that covers fantasy football, you can allow Texas residents to access the information.
If people want to access your sports betting software, they must leave the state to do so. While people often use various measures to circumvent this, it's best to avoid getting yourself into legal trouble, so try not to advertise gambling services to Texas residents.
5 Tips for How To Be a Good Texan Bookie
What do you know about how to be a bookie? You can read some of these useful strategies to learn how to be a good bookie.
Sports betting is an ever-growing industry that generated over $4 billion in the US just last year.
As sports betting continues to grow, more bookmaking opportunities are becoming available. Learning how to be a bookie is one of the best ways to earn money in sports betting, but few people know where to start.
Fortunately, Ace Per Head has several guides that'll help you become a bookie, and this one is no different. No matter how much experience you have, we've got you covered.
Read on to get several tips on how to be a good bookie in Texas.
1. Analyze Sports Often
If you're trying to be a good Texan bookie, one of the best tips Ace Per Head can give you is to analyze sports often.
Sports knowledge can help a bookie with various aspects of the job, such as setting odds and building relationships with players. However, to acquire sports knowledge, you must spend a decent amount of time looking into the many teams and players of a sport.
You can start expanding your sports knowledge by viewing games, either at stadiums or from home. Pay attention to what the commentators say because they'll provide a ton of insight about plays, injuries, and more.
You should also pay attention to how the game is played. Learning how to score points is necessary for creating bets that involve scores, which is common in things like NFL betting.
Online forums are also great places to gather info from. For example, you can browse Reddit to learn all about the latest sports news and communicate with other sports fans in one place.
2. Understand Your Player Base
Aside from analyzing sports often, you must ensure you understand your player base when you start a sportsbook. This cannot be overlooked because your players will be the ones that allow you to run your platform.
Before launching your sportsbook, think about the sports you'll host on it. Including some of the most popular sports in the US is a great place to start, though you can expand into other sports as you grow.
After considering the sports you'll host, think about what your players would like to get out of the platform. Generally, providing more betting options will allow you to earn more money, especially if you offer casino games.
If you're having a hard time figuring out what players want, you can request feedback after launching the sportsbook. If your sportsbook isn't ready, look online to see what players say about other sportsbooks.
3. Set the Best Odds
Another thing you must do is learn how to set the best betting odds. In the world of sports betting, betting odds determine how much a person can win from a bet.
As a bookie, knowing how to set these odds is crucial if you'd like to earn money. With some sports knowledge, this process will be much simpler, but there's a ton of math involved.
You can learn how to calculate odds by checking out this wikiHow guide. As you gain bookmaking experience, you'll have an easier time setting odds in a way that'll ensure you earn money.
4. Provide Stellar Customer Service
Here at Ace Per Head, we can't stress enough the importance of customer service.
Running a bookie business is just like any other business. You will often work with customers (players) to ensure they enjoy your services.
Should a problem arise, you must know how to satisfy the player. In some cases, you may end up losing money to retain a player. Yet, you can create various policies to help you circumvent this while keeping the player happy.
We encourage bookies to invest in solid recordkeeping software. With the right software, you can keep track of all transactions to identify what a player is talking about when they present you with a problem.
For example, if a player deposits $500 and doesn't see their balance reflect that, you can use a transaction ID to see whether $500 was deposited. This will prevent you from losing money, and it'll prevent the player from getting frustrated because you can explain the situation.
5. Choose the Right Sportsbook Provider
The last tip for being a Texan bookie is all about choosing the right sportsbook provider. Ace Per Head has everything you need in a sportsbook provider, but it's important to know what makes one good.
The best sportsbook providers offer various features that let bookies manage their platforms at ease. They also let bookies outsource several services to them, such as customer support.
Here at Ace Per Head, we often invest in new technology that maximizes a bookie's potential. Thanks to several data centers and call centers, we can ensure your platform operates efficiently at all times, which is something that many other providers can't.

Now You Know How to Be a Bookie
If you're currently working with another sportsbook provider and aren't satisfied with their services, you can switch to Ace Per Head without any problems. We'll help you set up your platform within a day, no matter how large it is.
Now that you know how to be a bookie in Texas, start thinking about what you'd like to get from Ace Per Head. Even if you're a new bookie, we have the resources you need to succeed.
Check out our FAQ to get answers to some of our most common questions. Our blog also has a ton of information worth checking out.
When you're ready to transform your bookie business, contact us at (800) 909-5193. We'll help you sign up for a free 6-week promo of our bookie software.
Use Ace Per Head to Kickstart Your Bookie App
Now that you know about the legality of online gambling in Texas, have you ever thought about becoming a bookie?
Becoming an online bookie can provide you with various benefits, and Ace Per Head has all the tools you need to succeed. With us, we'll help you better understand your local laws so you can become the best online bookie without any trouble.
Sign up for our services as soon as possible to start enjoying the many benefits of sports betting. If you have any questions, we'll be glad to answer them.