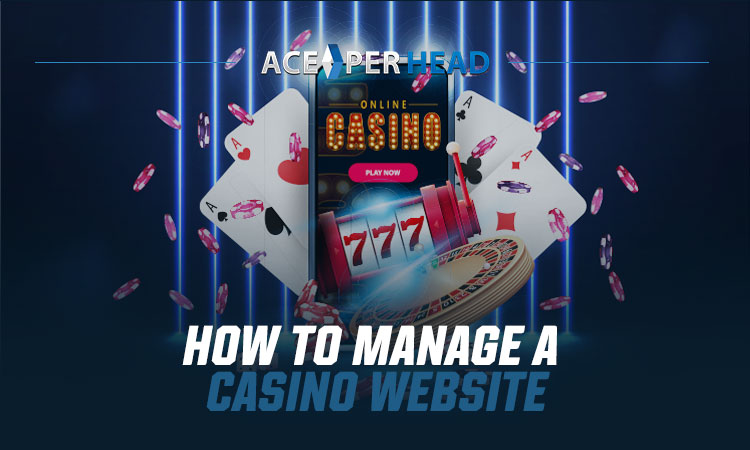 Currently, the Canadian sports betting industry is worth around $11 billion. However, because this growing market is moving so quickly, experts estimate that the annual revenue may more than double within a few years. As a budding bookie, this is a huge opportunity… which means that you'll need to play your cards right and take advantage of it.
Managing your casino website the right way may sound like a challenge, but it's key to standing out above the competition. Luckily, pay per head casino providers are here to help you manage and maintain a bang-up website. Read on to learn the basics of PPH website management and how you can get the most out of your casino.
Design an Awesome Site
The first step towards managing an awesome website is, of course, creating it. You'll want to choose a pay per head (PPH) platform that allows you to determine the overall look of your website. You also will want to make sure that the provider allows you to specify your specific needs and determine the features that matter most to you.
Ace Per Head's experienced and reputable sportsbook providers are happy to help you design a site from one of many customizable templates. These templates are perfect for budding bookies because they're specifically made for sports betting businesses. However, if you have a unique vision and want a fully-custom site, we're happy to help make that happen for you, too.
Understand How Ace Per Head Helps With Casino Management
Once you have a site, you're ready to grow your business while managing your online presence. Before you can manage your site the right way, it's important to know what Ace Per Head can do when it comes to updates and upgrades.
As it turns out, our experts can handle most of the nitty-gritty parts of web maintenance. This includes:
Performing backend updates to increase site functionality (speed, navigation, cookies, etc)
Monitoring trends in site operations and troubleshooting when there are blips (to prevent downtime)
Installing and updating the most modern security features and systems (firewalls, authentication, etc)
Automating these updates to take place regularly
Linking your website to other pages that automatically track teams, players, and events
Embedding this changing data into your website so that bettors can see how their teams, players, and events are doing
Automatically reminding both you and bettors when someone owes a payment to the other
Sending out email templates and blog posts on an automated schedule
Linking your site to social media platforms (that you manage)
You can sit back and let us take care of all the boring, basic logistics. However, there are still some aspects of site management that you need to work on. Fortunately, all of these online casino maintenance activities are fun.
Optimize for Mobile
Currently, about half of the global population accesses the web primarily from smartphones. By 2025, this number looks like it will rise to around 72%. Moreover, these users will be going online exclusively from mobile devices.
It's important that you manage your site in a way that works for mobile users. Even if you need to sacrifice some desktop functionality, make sure that you're always tweaking your page to get it looking great on iOS and Android devices. You can consistently upgrade it to work with new types of phones and tablets.
Consider Solutions to Common Pain Points
As you operate your sportsbook, you're likely to find that certain issues come up over and over again. This is normal with a business- your customers are looking for a specific service and are going to have similar pain points. If your website doesn't already have features to resolve these pain points, it's up to you to make necessary alterations.
You can discover the most common problems by communicating with your bettors. Leave an area on your site where they can leave anonymous feedback on how you can improve. Ask what they like best about your PPH site and what they like the least.
This will give you an idea of what you can change to make your clients happier, but you also will want to look at metrics. Use tools like Google Analytics to track what pages people look at before they place bets. Take an equally long look at the pages that cause potential bettors to bounce.
These figures can help you to discover what customers want to see vs what doesn't help them with their pain points. You can then use outside-the-box thinking (and Ace Per Head's 24-hour agent hotline) to come up with ideas on how to resolve common issues.
Stay in Touch With Your PPH Casino Provider
Because Ace Per Head performs the upgrades that you request, it's important to keep in touch with our experts throughout the site management process. We'll make sure that your vision is met in a timely manner. This lets you get back to working with bettors and coming up with new ways to make their casino experience better.
PPH software providers can also help you to think of new ways to upgrade your website. If you want some new ideas that you haven't thought of, all you need to do is chat with the pros.
Grow Your Casino Website Today
While managing your casino website can be a challenge, the best PPH casino platforms make it easier. Our fully-managed services mean that all you need to do is imagine ways that we can improve your website. We'll deal with the nitty-gritty realities of making it happen.
Now that you know how to manage your casino website the right way, it's time to get started. Request an agent demo of our services to see what your managed site will look like when it reaches its heyday.