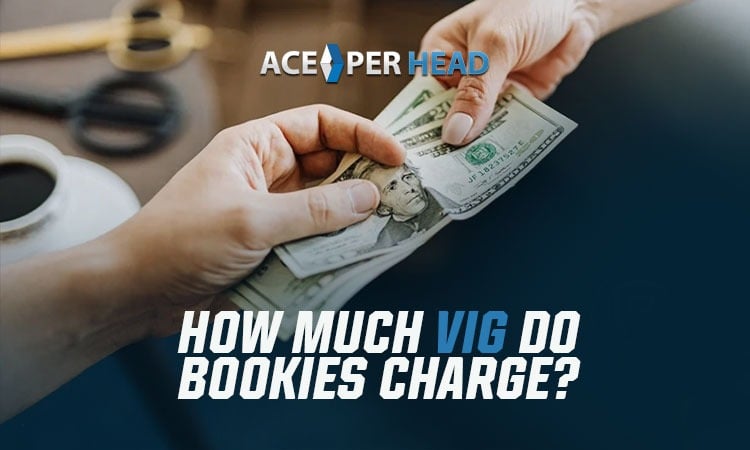 Sports betting has become more and more popular in recent years. As of 2022, the sports betting market was worth over $83 billion.
Bookie sportsbooks are some of the most widely available platforms for people to bet on sports. However, if you are new to sports betting, something you should know is that there is a sports betting vig with these sportsbooks.
What is a vig? This guide breaks it down.
What Is a Vig?
Before we can dive into the average vig, you need to understand what a vig is. Essentially, a vig is the fee that a sportsbook charges for you to use their platform to place their bet. It covers expenses that they have to provide you with the platform as well as services such as creating odds for each type of bet.
An example of this is when you get odds for a point spread of a football game. The New York Giants could be favorites by seven points over the Dallas Cowboys.
You would have the option to bet on the Giants at -7 or the Cowboys at +7. However, there would be odds placed underneath each of these bets.
In this situation, both bets would likely get around -110 odds. That means that you would have to bet $110 to win $100 or bet $11 to win $10.
What this means is that the bookie keeps about 10% of the betting money as a vig. This allows the bookie to make a profit no matter how those bets play out and it gives them a little extra insurance in case a big bet cashes in.
Average Vig Fee
So, what is the average vig fee? The answer to this depends on what type of bet you are making.
In the example above, a typical spread bet may have around a 10% vig.
However, there are soft sportsbooks out there that typically have a lower vig for sports bettors. The bets above may have -105 odds in those types of sportsbooks instead of -110. As a result, a bettor would only get charged a 5% vig there.
That is not the only type of vig with sportsbooks. A bettor could get charged a vig for future odds bets as well. Using the 10% rule above, this could mean that if someone has 10/1 statistical odds to win a championship, they may only get paid out for 9/1 odds and the bookie would keep the rest as a vig.
The Advantages of Opting for Ace Per Head's Bookie Software
As the legalization of sports betting gains momentum across various regions in the U.S. and Canada, an increasing number of pay per head (PPH) companies are emerging, offering their PPH software solutions. Amidst this abundance, Ace Per Head stands out by providing unparalleled sportsbook software, positioning you for sustained success as a bookmaker.
Ace Per Head is dedicated to delivering a comprehensive suite of tools essential to propel your bookie business in the right direction. With our top-notch bookie software, you will discover the ease and efficiency of running a bookmaking operation through our platform.
The following is an outline of the key benefits you can expect when utilizing our sportsbook software:
Custom Website: Gone are the days of rudimentary bookie operations with scribbled paper wagers. In today's digital age, bettors expect online accessibility. Ace Per Head offers the finest bookie software with customizable websites for your clients. Create a site that embodies your brand and enables users to place bets seamlessly.
Sharp Betting Lines: To stay ahead in the industry, we provide up-to-date and sharp betting lines. Unlike outdated newspaper lines, our platform ensures your clients have access to the latest information, enhancing their betting experience.
Extra Features: Tailor your custom site with additional features, offering your clients a unique betting platform. From special prop bet building tools to integrating an online casino, these extras will set your business apart and foster customer loyalty.
Dedicated Customer Service: While our bookie software is intuitive, we understand that questions may arise. Ace Per Head offers a dedicated customer service team to address any concerns promptly. With our support, you can focus on your business without the need to constantly attend to client queries.
Affordable Pricing: Despite the extensive benefits of our bookie software, affordability remains a priority. For as little as $3 per head, you can avail yourself of our exceptional platform. Furthermore, take advantage of our 6-week free promo to gain firsthand experience and decide if our software aligns with your needs.
Ace Per Head takes pride in providing the best bookie software in the market. Our commitment to excellence ensures that you have all the necessary tools at your disposal for a thriving bookmaking venture. Experience the difference and secure your success with Ace Per Head's premier bookie software.
Learn More About the Vig
So, what is a vig? A vig is the fee that bookies charge bettors to use their sportsbook as a platform for placing their bet.
The average vig fee could depend on what type of sportsbook you are using. For a traditional sportsbook, expect this to be close to 10% of the odds that you get. If you go offshore and use a soft sportsbook, this could be cut in half.
Do you want to run a sportsbook? Sign up with us today.