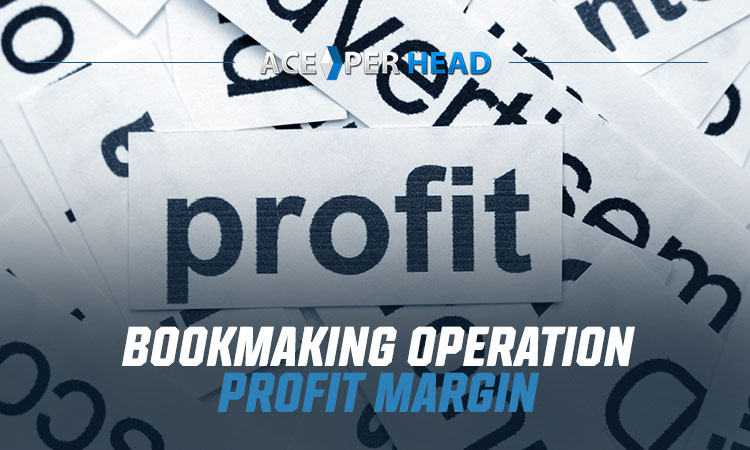 Being a bookie comes with risk, and mitigating it is one of the most important parts of sportsbook operations. A good profit margin can ensure that you're profitable enough to stay in business, grow, and eventually generate a massive income.
Read on to learn about sportsbook profit margins, why they're important, and why managing a sportsbook is worth the cost.
The Basics of Sportsbook Margins
A "profit margin" measures how much company a business makes after subtracting all direct and indirect costs. In the case of a sportsbook, though, it's a bit more specific.
Sportsbook profit margins are also called the vigorish. Colloquially, you may sometimes call them the "juice."
These terms all refer to the amount of money you take from each bet as a guaranteed profit. In other words, it's the guaranteed earnings of your sportsbook after accepting a bet.
Let's say that you charge a vigorish (or profit margin) of 5%. Someone places a $500 bet. You're taking $25 no matter whether they win or lose, and you're going to provide them with with payout for a $475 bet if they win.
What Is a Good Profit Margin?
Calculating profit margins can be a challenging process because a good vigorish depends on many factors. You'll need to work out the implied probability of a team winning, add both probabilities together, and subtract 100 to come up with a good vig.
Better yet, you could work with Ace Per Head. Our experts will get into the nitty-gritty. You can just take bets ASAP and get an expert-calculated vig.
Typically, you can expect to take a profit margin of about 4-5%. 4.77% is pretty standard.
Sometimes the vig may be around 3% while in other instances you can go up to 6-7%. It doesn't usually get much higher than that because higher profit fees can turn players away.
Is Managing a Sportsbook Worth It?
If you're new to managing a sportsbook, these figures likely look underwhelmingly low to you. Luckily, your profit margin is different from your overall bookie profits.
In addition to the vigorish, bookies with good lines will also make money off losing bets. Even when you have some winners, professionally set lines from Ace Per Head oddsmakers are designed to give you the edge you need for long-term profits.
Being a bookie is well worth the effort regardless of your competitive vigorish. Small-time bookies who only run a sportsbook part-time can still make about $30,000 a year. But those who make it a full-time commitment can grow and expand to make $100,000 weekly.
That's $5 million per year. Even with a 5% essential profit margin, you can get an annual salary higher than most people see in their lives.
Software for Betting Business
There are countless benefits to choosing the right betting software for bookies. Click right here to learn more about what to do.
Now's one of the best times to become a bookie due to sports betting's explosive growth in recent years, but how do you choose your software?
Betting software for bookies is necessary for creating a platform. However, a plethora of options exist, making it difficult to determine which one is right for you.
Fortunately, Ace Per Head strives to offer the best betting software to all types of bookies, independent of their background. In this guide, you'll learn about the basics of choosing a sportsbook provider for your business to ensure you can quickly get ahead of competitors.
Keep reading to get all of the information you need on betting software for bookies!
Consider Your Budget
Before you can choose bookie software for your betting business, the first thing you must do is consider your budget.
The cost of the software will vary depending on the features you want and the payment model that a sportsbook provider uses. In many cases, if you want more services and features, you can expect to pay more.
However, some sportsbook providers, like Ace Per Head, use the pay-per-head model, which allows bookies to pay for each player they have. This allows them to access more without having to spend more.
Research Options Online
After considering your budget, the next thing to do is research options online. Since sports betting is legal in over 30 US states, many sportsbook providers have appeared in recent years with a variety of different services.
By researching several sportsbook providers, not only will you learn about available services, but you'll also have an easier time deciding what you would like.
To make choosing the best betting software simpler, consider making a list of the sportsbook providers that interest you. Doing so will make narrowing down your options easier.
Reach Out to Software Providers
One of the best things you can do before using sportsbook software is to reach out to several software providers. While you'll find helpful information on their websites, contacting them directly will ensure you get all of the answers you need.
By asking some of these questions, you should have a good idea of whether a sportsbook provider can help your betting business:
How much do you charge for your services?
What kind of features will I have access to?
How long can I use the bookie software?
What do other customers say about your services?
Will you help me set up my platform with website templates?
If you have any other questions, ensure you ask them as soon as possible. This will be a good time to determine whether the sportsbook provider has good customer support.
Start Generating Bookie Profits ASAP
Though a good profit margin looks low, you have the chance to generate untold income if you run a quality sportsbook. Ace Per Head is committed to helping you do that with fully managed white-label services.
Start a 6-week promo period to get one week of our services free every month for life.