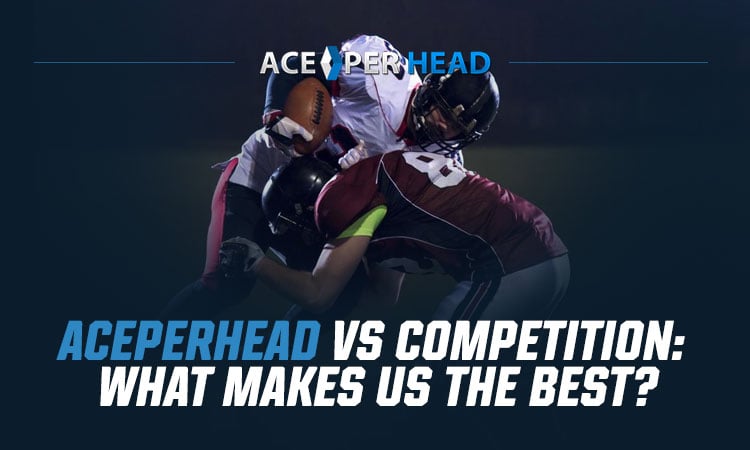 Do you have a strong desire to become a bookie? In 2023, you'll need more than just a pencil, some paper, and a telephone to do it.
Your sports betting clients will expect you to use pay per head software to provide them with an amazing experience. This PPH software should deliver everything you'll need to allow your clients to place sports wagers online quickly.
So, what is the best pay per head software available? AcePerHead is the PPH provider you can trust for all your bookie business needs.
Here are reasons to choose AcePerHead vs the competition.
More Sports Betting Options
You want to give your sports betting clients as many betting options as you possibly can. And that's exactly what you'll be able to do when you select AcePerHead vs the competition.
AcePerHead will give you immediate access to all the latest sharp betting lines associated with almost any and all sports you can imagine. It'll help you bring in more bets from your clients on a regular basis.
Highest Level of Automation
You don't want to have to sit around and constantly update your sports betting odds, do you? Of course not!
Fortunately, you won't have to worry about doing this when you utilize a pay per head bookie provider like AcePerHead vs the competition. All of your betting odds will be automated so that they'll change accordingly without you having to lift a finger.
Increased Customization Opportunities
One of the very best things about going with AcePerHead vs the competition is that it'll enable you to customize the sports betting experience you can provide for your clients. You can customize everything from the way your website works to the betting options you give to your clients.
You can even choose to add an online casino to your website to improve your chances of bringing in even bigger profits every week.
More Comprehensive Customer Service
If you or your clients ever have any issues with the sports betting website that you'll get access to through a pay per head service like AcePerHead, you'll want to have a great customer service team that can assist you. That's precisely what you'll get when you decide to move forward with AcePerHead vs the competition.
You and your clients will be free to touch base with AcePerHead's customer service team anytime you need help with anything.
Lower Price
When you consider all the benefits that'll come along with choosing AcePerHead vs the competition, you might think AcePerHead's PPH platform would cost you a small fortune. But this couldn't be further from the truth.
You can use AcePerHead's pay per head software for as little as just $3 per head. You can also take advantage of AcePerHead's 6-week free promo when you sign up for a new account.
We Can Help You Become a Successful Bookie Agent
Is your goal to become the most successful sportsbook agent possible? AcePerHead can set you up with everything you'll need to do it.
Our sportsbook software will help you get your online sports betting site up and running. Our AcePerHead Academy will deliver all the tips and tricks you'll need to learn how to achieve the kind of success you're looking for from your bookie business.
Discover more about our pay per head services today and then try taking advantage of the 6-week free promo we have to offer.
Choose AcePerHead vs the Competition
There won't be any shortage of options when you're in the market for a price per head provider. But you should strongly consider choosing AcePerHead vs the competition.
As you've seen here, AcePerHead can offer so many benefits that other PPH providers won't be able to touch. Discover more about our PPH sportsbook software and then put it to the test to see how well it'll work for your bookie business.