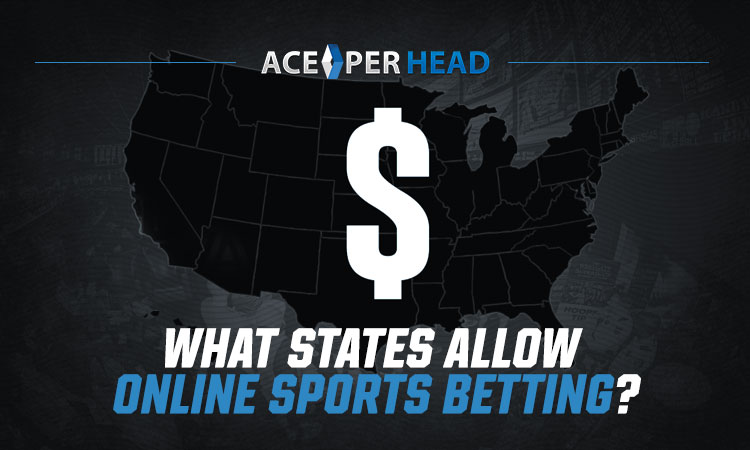 Just like that, New Jersey was off to the races. Following the Supreme Court's decision to lift the ban on sports betting in 2018, New Jersey was the first state to introduce it. It took until the following year for other states to continue the trend.
Online sports betting quickly rose in popularity, often introduced as a welcome partner in states that allowed in-person betting. Few states still criminalize sports betting, but the risk of penalties continues to exist. If you're interested in getting involved with this exciting sector of gambling, you should make sure you're following the law.
What's legal when it comes to sports betting? What states allow online sports betting?
Look no further. Before you get started, check this guide to all things online sports betting.
What States Allow Online Sports Betting?
There are four categories under which states fall when it comes to sports betting. Many states were quick to allow sports betting, whereas others still hesitate years after the Supreme Court decision. Some states only allow in-person sports betting, while others only allow online sports betting.
So which category does your state fall under?
States Where In-Person and Online Sports Betting Is Legal
Congratulations if you live in a state where "all bets are off!" If you live in the following states, it's fully legal for you to take advantage of in-person and online sports betting.
Arizona Sports Betting
Arizona has decided to legalize sports betting across the board, but the market won't launch until September of 2021. The future of sports betting in the state, however, looks very promising.
Seven sports venues and 24 casinos owned by tribes are all possible betting locations, not to mention the possibilities for online sports betting. Not all the tribes, however, fully endorse sports betting and may not integrate it into their casinos.
Colorado Sports Betting
Many online betting sites are available for betting in Colorado, some of which have their own mobile apps. Many of these sites also have an agreement that allows them to partner with many Colorado casinos. In return, they can open retail sportsbooks in those locations.
Indiana Sports Betting
In Indiana, you can bet on twelve different online sportsbooks since the beginning of 2020. The marketplace for online sports betting has been very strong and continues to grow. You can also bet in person at several casinos and betting parlors.
Illinois Sports Betting
For Illinois, sports betting hasn't grown as rapidly as other states. There are only five online sportsbook options so far, and the retail locations only started to open in March of 2020.
The onset of COVID caused some confusion as Governor Pritzker went back and forth about his decision to allow for remote registration while Casinos were closed during the lockdown. Despite the slow growth, efforts to open new locations for betting continue.
Iowa Sports Betting
There are 10 sports betting websites that are currently available in Iowa, and several others are waiting to enter the market. Every casino has acquired a license for sports betting. As for in-person betting, every single casino in the state has opened a retail location for online sports betting except for one.
With every casino and several online options at your disposal, sports betting in Iowa will be a breeze for you.
Michigan Sports Betting
Michigan has more than 10 online sportsbooks that have launched since January of 2021. All of these online services also have retail locations. The state has limited betting operators to only offering one online sportsbook, but Michigan has 26 casinos to choose from.
Mississippi Sports Betting
While Mississippi allows both online and live sports betting, the law limits you to gambling online only when you are physically within a casino. Several legislative attempts have been made to open online sports betting further, but related proposed policies have continuously been voted down. Thankfully, there are many casinos in the state for you to visit.
New Jersey Sports Betting
Historically speaking, New Jersey has been at the forefront of gambling freedoms outside of Nevada. As the first state to introduce sports betting, they've led the way in opening up opportunities to gamble on almost every sport you can think of.
There are 17 online sports betting options to choose from. There are also several locations inside and outside of Atlantic City to bet in person.
The only area that New Jersey falls behind is in college sports. You are not currently allowed to bet on college sports, but can travel across state lines to bet in Pennsylvania.
Nevada Sports Betting
While the rest of the country waited for federally legalized sports betting in 2018, Nevada was the location for gambling. The best part is that you don't even need Nevada residency to participate. As long as you show up in person to create your account on a Nevada online sports betting app, you can play within state lines.
Almost all of Nevada's casinos offer online and in-person betting!
New Hampshire Sports Betting
While it is legal to bet online and in-person in New Hampshire, the state only has two retail sportsbooks for online betting. New Hampshire is heavily regulating the opening of sportsbooks and locations in the state, and many cities have chosen to vote down new opportunities in their areas. You can choose from five online sportsbooks and 10 retail locations once the market has fully opened.
Pennsylvania Sports Betting
Pennsylvania allows anyone within its borders to use online sports betting bookie apps as long as the apps are specifically used for the casinos for which they are branded. You can, however, register remotely and place bets from anywhere within the state. Eleven casinos and tracks have received the license to run sportsbooks.
Rhode Island Sports Betting
Rhode Island was one of the first to launch online sports betting through mobile devices. It was at first regulated by following Nevada's model of forcing in-person registration, but when this provision caused many people to give up registering, the law was voted out. You can now register remotely, but a current lawsuit is threatening the continued growth of sports betting in the state.
Sports betting continues while the legal battle moves forward.
West Virginia Sports Betting
In West Virginia, you can make an account from anywhere in the state. There are five online sportsbooks to choose from and five casinos where you can bet in person. Mobile apps are geo-fenced so that you cannot place bets if you have left the state.
Washington D.C. Sports Betting
Yes, D.C. isn't a state, but the district has chosen to allow online and live sports betting within its borders.
States Where Only In-Person Sports Betting Is Legal
If you didn't see your own state listed above, it's possible that you can still take advantage of online sports betting as long as it is done on location. Many states have chosen to allow legal sports betting as long as you visit a casino or other licensed betting location. In these states, you won't be able to download a betting app and place bets.
You can bet on sports in person in the following states:
Arkansas
Delaware
Montana
New Mexico
New York
For people who live in Delaware and New York, New Jersey and Pennsylvania thankfully border your state. Many people choose to travel across state lines to participate in online sports betting services legally. This is also true for Arkansas, Montana, and New Mexico, though travel might take longer.
States Where Only Online Sports Betting Is Legal
It seems a bit contradictory to not allow sports betting inside a licensed casino, but a few states have chosen to only allow online sports betting. To place bets on sports, you must download and register for a mobile or browser-based online sportsbook.
This is true for:
Oregon
Tennessee
Virginia
For Oregon, the state lottery has allowed betting on the NFL with the Sports Action in 1989 to continue despite federal rules. In comparison, Tennessee has only just opened up sports betting for online gambling only, and you can register remotely. Virginia saw the success that neighboring states had and chose to open up online sports betting in April of 2020.
States Where Sports Betting Is Illegal
If you live in South Dakota, Maryland, or Louisiana, rest assured that sports betting was legalized by the ballot voters of the November 2020 election. However, there are currently no regulations written.
All sports betting is still illegal in:
California
Idaho
Utah
North Dakota
Minnesota
Nebraska
Kansas
Oklahoma
Texas
Wisconsin
Missouri
Ohio
Kentucky
Alabama
Georgia
Florida
South Carolina
Vermont
Massachusettes
Connecticut
Maine
If you live in the above states, you can choose to travel to another state where sports betting is legal and allows tourists to participate. If you're looking to offer sports betting services, these states are not the best market to start.
Start Making Money With Online Sports Betting
You can switch your bookie service to a reliable pay-per-head bookie service to start taking advantage of the booming market in these states. As more states open up their policies to allow for online sports betting, you'll want to make sure you're ready for the influx of players.
AcePerHead will take care of everything from setting up your site to moving your players over. In most cases, it will only take 15-20 minutes! To learn more about AcePerHead software, visit our FAQs page or call 800-909-5193.