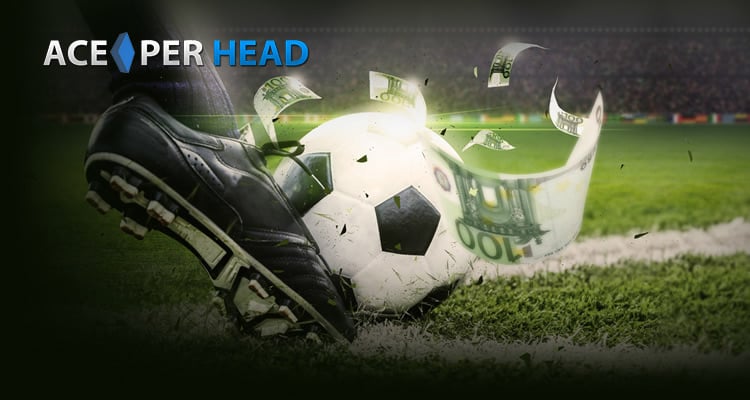 Any bookie worth their salt knows that gambling is not just a business it's a lifestyle. Having said that, the business side of the gambling industry has been largely overlooked in the past. Many people still hold the notion of old men locked in a smoky room counting money and sending goons out to break someone's legs.
How Does It Increase Your Player's CLV
While that scenario may still be playing out somewhere in the universe, the gambling industry has become a very sophisticated and profitable one. Sportsbooks have become technology companies at their core, and a new trend has been forming, where the different sides of the business are being separated into technical, operational, financial, and marketing services.
The first two aspects are now being provided by pay-per-head services like AcePerHead.com, which offers betting software for bookies as well as line management, customer service, and risk management, while independent bookies are centering their efforts on the marketing and financial aspects of the industry.
Here is Why this Split Makes Sense:
The cost of having tech-savvy people on staff, as well as experienced line managers and professionals with great customer service, can be staggering for a business because the cost is ultimately absorbed by just one entity, when you outsource these services, that same cost is being absorbed by multiple businesses making the top of the line service affordable for everyone.
The other reason the divide has gained acceptance is that by being able to lower costs, increase the level of service, and dedicate more time to building customer relationships, the result is an increase in your player's CLV (Customer Lifetime Value).
The main factor in the increase of CLV is the presence of an omnichannel sportsbook solution, which is what Ace Per Head offers. Players have come to expect full accessibility to the betting platforms through a myriad of networks. The betting software for bookies that Ace Per Head offers enables players to access their accounts and wager from any device be it handheld or not, in addition, players have access to their call center where they can place wagers, check balances, or even leave a message for you.
Having an omnichannel sportsbook increases your Customer's Lifetime Value simply because it offers them more options to bet, they no longer have to wait to get off work or get home to call in a wager, and they can check lines and place wagers as they go about their regular daily activities. This increases the likelihood of more money being risked daily, which increases the overall value of the customer.
Ace Per Head's omnichannel sportsbook solution is also a valuable marketing tool for independent bookies who are trying to attract more clients to their business. Giving players the freedom to wager any time of the day or night across different networks is a great selling point, one that a lot of competitors do not offer.
Manage Everything
And a major selling point is that Ace's omnichannel betting software for bookies offers a single backend from where you can manage all your products like sports betting, virtual casino, and horse racing. You will also have up-to-the-minute reporting on your player's activities, reducing your administrative overhead.
The Top Betting Features to Have for Sportsbook Software
Do you know the must-have features of betting software? If you do not know, then read about the top options! Learn about sportsbook betting software.
If you're passionate about business, the fact that there are 30.2 million small businesses across America can be discouraging. Still, some markets are more lucrative than others. Sports betting, for example, can draw in a lot more money than startups in other industries.
This is especially true if you're passionate about sports in addition to making money. In order to get started successfully, though, you'll need the right betting software to sustain your startup and propel it forward. Read on to learn some of the most useful features to look for when deciding on your sports betting technology!
Pay Per Head (PPH) Payment Model Features
When researching sportsbook platforms for your new business, you'll come across many different payment models. Paying upfront for the eternal use of a platform may initially sound appealing, but it has a lot of significant disadvantages. For one thing, there won't be any automatic updates to the technology.
You'll either need to spend a lot of time and money on upgrades or let the software fall out of date. Since you probably won't have any help with maintenance, you also will probably encounter security issues. You'll need to pay for a new package sooner rather than later and waste a lot of cash.
So, what about subscription models? These are much better since you'll have access to a fully-managed platform.
However, a lot of these sportsbooks charge a flat fee year-round for the use of their system. This means that you'll be paying the same $200 (for example) during months when you have 5 bettors as those in which you have hundreds. You're going to be losing more money than you're putting out during the off-season.
There are obviously problems with this model as well as paying upfront. But is there a solution?
As it turns out, the answer is 'yes.' Pay-per-head (PPH) platforms are fully-managed and subscription-based, but there's a twist: you only pay for the players that you're actively working with. You pay a fee of around $10 per bettor that's actively placing bets on your sportsbook.
This means that you'll only need to pay $20 if you only have 2 off-season players even if you had 200 players during the World Cup. Your business will be super scalable, flexible, and lucrative. You'll never be putting out more money than you're making, leaving room for steady growth.
Expert Web Design and Development
However, not all PPH betting software is made equal. You'll need to look for one that has all of the features that keep your sportsbook in top shape. The first feature that you should keep an eye out for is the ability to design your own website professionally.
Some people might think that they can just sign up for Squarespace or a similar web design company and hit the ground running. Unfortunately, these platforms aren't the right choice for bookies since they can't sustain the features needed for a sportsbook. You need to invest in specialized software that lets you track bets and be transparent with your players.
That's why you'll need a PPH provider that offers assistance from expert online sportsbook designers.
Ace Per Head offers several templates that you can choose from when professionally developing your website. A web development professional that specializes in working with bookies talks to you and works to make your vision a reality. You can visualize a site easily after seeing the templates and layouts that you most love.
However, the templates are meant to assist rather than confine. If you don't like any of them, they aren't there to limit your potential or squander your creativity. Our experts are also happy to work with you and create a custom website that both you and your bettors will love.
Security and Data Protection Features
Any sports betting program provider worth it's salt will value your privacy. The same goes for your players. After all, there's no quicker way to damage your reputation than by losing a player's sensitive data to malware or unauthorized hackers.
Look for a platform that has a strong multi-factor authentication system. All data should be stored securely. Any and all information on your web platform should be encrypted and secured behind up-to-date firewalls.
Make sure that your PPH provider has expertise in updating these security features regularly. Falling behind can leave you vulnerable.
In addition to strong security, you'll want to choose a company that ensures that there's no information online to steal in the event of a breach. This is a challenge for most platforms- after all, personal and financial information is usually required to sign up and communicate with providers. However, this isn't true of Ace Per Head.
When you sign up with us, you'll be assigned a random number. This code will be used in lieu of your name when you contact us to discuss your sportsbook. We'll never even know your name, which means that even your most basic personal information won't be stored in an online system.
Your players will be afforded the same courtesy. They'll never be prompted to give you (or us) any information and will instead get to use the same type of numeric code that you do. This protects their privacy and keeps them safe.
The end result is that hackers will come away empty-handed in the event of a breach. You will develop a reputation for keeping player information secure and valuing their privacy. This is sure to sway some people to bet with your sportsbook over the competition, especially since gamblers often work with a lot of money and sensitive data.
Simple Betting Options and Methods
Betting also needs to be both anonymous and simple in order for you to develop a reputable sportsbook. Accepting anonymous and untraceable Bitcoin payments enhances your bettor's security in addition to Ace Per Head's other safety features. You also are encouraged to pay us with cryptocurrency to protect your own financial data.
Bitcoin payments aren't the only important thing to consider, though. You need to choose a betting software that makes it easy to take bets and make payments on the site. Ace Per Head's transparent interface allows you to see all of the bets you've taken recently.
It also allows players to see those exact same figures on their end. In addition, you can prominently keep tabs on the teams and players where these bets were placed. Transparency is key.
Players should be able to see what their limits are and how much they can bet as well. They should be able to click a single button and place a bet on your platform. With Ace Per Head, you can customize your interface to make this happen in a way that's palatable to you.
Personalized Upgrades and Automatic Updates
It's a truth universally acknowledged that the internet is an ever-changing machine. Trends come and go. They become too popular and need to be switched up so that businesses like your sportsbook can remain unique.
Your sportsbook provider should be able to help you stay on top of these trends and keep your site appealing. Since the best providers work to execute your vision, you can look into interesting web design trends online and decide on the ones you like. You can also ask for professional advice when it comes to keeping your website snazzy and engaging.
Automatic upgrades on the technical side of things are just as important. If your site has slow load times or doesn't load images, you're going to have an ugly sportsbook no matter what. Plus, since people expect sites to load within a few seconds, they'll click away and place a bet somewhere else.
You also will struggle if your site has poor indexing. Broken links and low-quality text that has spelling errors and strange placement will make your site unappealing to Google bots. You're going to wind up with really low visibility, virtually no clicks, and a small number of bettors that never grow.
Make sure that you choose a provider that automates these updates and constantly monitors your site for issues. Ace Per Head prides itself on catching potential problems early and being proactive about site maintenance. This means that your sportsbook will always be up and ready to take bets.
An Easy-to-Use Interface for Both Agents and Players
Finally, user-friendliness is key when choosing a sports betting software to operate your bookie business on. You want to be able to easily manage the backend of your website. If you can't, you'll eventually get frustrated with trying (and failing) to execute your own vision.
The site also needs to be easily accessible from the player's end. They should be able to easily see all the bets they've placed and all of the events, teams, and sports that they can put more money down on. It should also be simple for them to manage their bets, send payments, and receive what they're owed.
Make sure that you talk to your provider and see how they can help you to best design your website. Try an agent and player demo if possible so that you can see how both ends of your website will function. This ensures that you go into building a sportsbook with all of the necessary information and can optimize it for your bettors.
Accessible Customer Service and Support
Did you know that 96% of consumers around the world cite customer service as a key factor in whether or not they choose to work with a business? If your bookie service has top-notch support, you're going to sign on with a lot more bettors than if you don't. It's a simple correlation that's been proven time and time again.
That's why you're going to need a betting software provider that's committed to supporting your clients. Traditional bookies are forced to field calls night and day to keep bettors happy with their services. They need to constantly be available to discuss finances, lines, bets, and limits, which is exhausting (to say the least).
When you work with a company like Ace Per Head, though, you'll have the chance to sleep again. Our 24-hour player call center tackles those late-night player inquiries that come with the territory of being a bookie. We'll have access to their account information via their numeric code and can answer their questions as accurately as you would.
Additionally, this courtesy isn't only extended to your players. You can reap the benefits of great customer service, too.
In addition to our player call center, we have another 24/7 center dedicated to helping agents like you. If you want any changes made to your platform- even at 3 AM- we have a customer service rep ready to take your call. We also can help you with any issues that you have regarding players, their bets, and the limits that you place on their betting.
Try the Top Sportsbook Software for Bookies Today
Starting any small business is a challenging endeavor, and a bookie business is no exception. That's why you'll need top-notch betting software to begin reeling in players and taking bets. Now that you know some of the features to look for when selecting a platform, it's time to cash out with Ace Per Head.
We're committed to assisting you with building a website, making your site appeal to customers, and helping you to grow every step of the way.
Start your six-week free today to see what our fully-managed platform can do to help you grow your sportsbook.