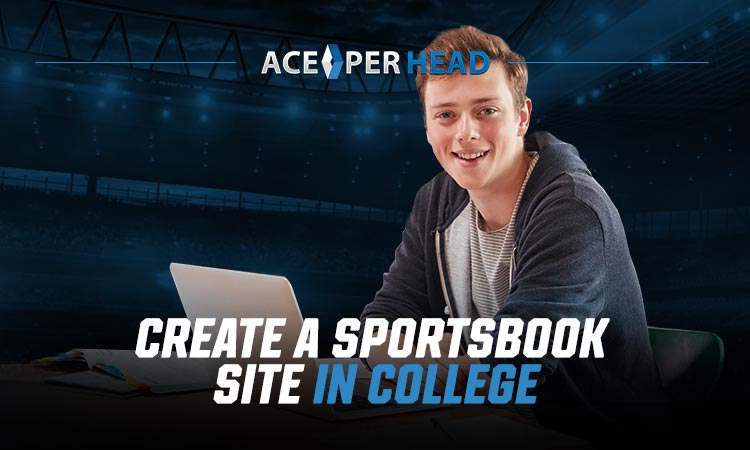 It is no secret that sports betting is on the rise, taking in about $35 billion in bets within the United States alone in 2020. With more and more markets opening up in North America, more sportsbooks are becoming available.
If you are reading this, there is no doubt you have felt the frustration of losing a sports bet, but you are also someone that probably pays attention to analytics, stats, and marketing trends.
The numbers might have made you wonder if you could get in on that and create a sportsbook site of your own in college? Well, it is a lot easier than one would think if you know these few keys.
1. Know Your Market
With online gambling and legalized sports betting platforms being so new, laws and legislations are still currently in process or just plain different in certain regions.
In the United States, there are still 21 states that it is illegal to do any kind of sports betting. There are also five states that you can only bet in person and three states where sports betting is only legal online.
On top of that, this is such a new concept in some states that three of them do not even have written regulations yet.
So, as you can see, your mileage may vary depending on where you are based.
If you are in Oregon, it may be better for you only having online betting as an option. In New York, you can't legally bet online while in Texas, you can't legally bet on sports at all. Whereas in say Pennsylvania, it is pretty much anything that goes.
There are also unique laws and regulations to consider when setting up your sportsbook site in college. North of the border, Canada only allowed parlay bets for sports betting in the past, but that might change by the end of 2021.
Then, there are some states with different rules for different types of sports betting. For example, in New Jersey, you can bet almost any sport on a mobile app, but it is still illegal to bet on horse races online although this may be changing soon.
So, once you figure out what you can and cannot do in your jurisdiction, you can focus on the actual sportsbook site.
2. Have the Right Software
One of the most important things for sports betting platforms to remember is that the spreads, odds, and money lines are everything. It can mean the difference between making and losing large sums of money.
Imagine the Super Bowl, one of the most bet on sports games of the year, with a betting software that was not quite fast enough to update the second half point spread from -10 to -10.5 before a sea of bets come in.
Then, the team covers by exactly 10 points. That could potentially be thousands and thousands of dollars of profit you lose out on because your sports betting software may just not be good enough.
If this is a fear you have while maybe not being the most tech-savvy person out there, a convenient option for you could be to operate on a Pay Per Head system.
By operating on this model, you can hand over the technological responsibilities to a reputable company that will not only get your sportsbook site set up in college, but will have advanced enough software to be able to meet all of the demands that come with live betting.
Pay Per Head costs as little as $10 per active player.
It will also increase the odds of you having a user-friendly sportsbook, which is important for bettors in order to make them want to come back to your book and place more bets!
If your pay per head software allows your sportsbook to be user-friendly, reliable, and efficient on both sides, you are on the right track to making some serious money from your book. But, the software isn't everything.
3. Hardware That Can Handle
Ok, so you have the software that keeps the bettors coming back, but what about the hardware that keeps the sportsbook up and running while protecting the bettors' information?
With online betting, players are usually forced to enter very sensitive information such as their names, locations, credit cards, and even bank accounts sometimes before being able to place a bet.
If all of that information is in your hands, it is a lot that the bettors are trusting you with.
Bettors want to feel like their information is safe while gambling with their money. They do not want to gamble with more than just a match or a point spread.
Having security reassurances will not only put your mind at ease, but the bettor's as well. Then, you do not have to worry if someone from the other side of the world is leaving your sportsbook unguarded or about being out of touch.
On top of security purposes, having the right hardware greatly increases the chances your sportsbook can handle more traffic reliably. Back to the Super Bowl. What if you had so many bets made that the sportsbook just crashed?
The right hardware not only guarantees that your sportsbook will be able to handle the increased traffic, but it will increase your reputation and put more money in your pocket.
A system that can handle more traffic than you anticipate that is recognized by major companies will help you go in the right direction. But with a sportsbook, people want to do more than just bet.
4. Provide Tools
The average gambler is almost always looking for an edge in the sport they watch to be able to come out ahead. A bettor likely feels like they want to have all of the resources possible at their disposal before making a decision to hand their money over to you.
Simple tools can help speed that transition up between you and the player. This can be as simple as having a short article come out about how the odds and spreads change when a star player is ruled out of a game.
Or, if you think a bettor wants to make a bigger bet, maybe one that is a bit of a longshot, provide an odds converter. This lets the bettor know how much money a bet with certain odds and an initial bet placed can be won.
Similarly, a parlay calculator will tell a bettor how much money they will win with certain odds and an initial bet placed if they get all of their bets right.
Some sportsbooks will also provide graphs and datasheets that analyze league or team betting trends that can tell a bettor if a certain spread or point total has been covered in a recent stretch.
With all of this said, you have to make sure one thing is in order before you can do any of this.
5. Know Your Finances
One thing you may forget about getting wrapped up in the idea of owning a sportsbook in college is actually paying for it.
You still need to make sure you are able to keep your sports betting platform and sports betting software up and running. But more importantly, you need to be able to pay the bettors that actually win.
Starting a sportsbook can take as little as $10,000 to up to $500,000 depending on what audience you are targeting. Whatever it may be, it is important to only accept the number of bets you feel comfortable paying off.
Six months of expenses are generally needed to cover a new business while it is getting set up in the beginning. Depending on your sportsbook, you may not need this amount of time.
But, it is always better to have and not need than need and not have. In the eyes of a bettor, not receiving their money when they actually win a bet could be the quickest way to steer them away from your book.
So, be on the safe side and triple-check the amount of money you feel comfortable putting into the company before you go off and running.
Create a Sports Betting Business in College
Now that you know all of the keys, go on and create a sportsbook site in college.
If you elect to operate under the Pay Per Head system, you can start with a six-week free to get accumulated and see if this is for you. There is currently a $200 discount offered for building websites. 
Someone will be able to chat live with you if you have any questions and you can create a package that is right for you by simply filling out your name, email address, and phone number.