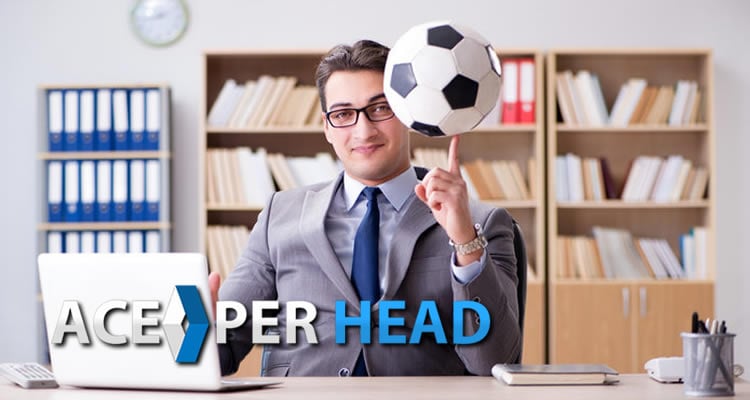 Sports betting has become one of the most popular online destinations over the last couple of years. As the restrictions on online sports betting have dwindled, more and more bookies have moved their operations online, taking advantage of bookie management software solutions that streamline their operation.
Ace Per Head has emerged as an industry leader in this field, providing bookies with access to a platform that is easy to set up, modify, manage, and market to potential players. Let's talk about some of the ways that signing up with a sportsbook software company can transform your business – and the rest of your life.
You Can Stop Working Around the Clock on your Book
The old-school image of a bookie is a guy who looks a couple of decades older than he actually is, sitting in a smoke-filled room, a phone to his ear, and a stack of envelopes in front of him. An elderly ledger sits next to him as he figures out who owes him how much – and how much he has to payout. It is easy to envision him sitting there, hour after hour, late into the night, taking new bets and making arrangements to pay his winners and collect from those who owe.
Bookie management software allows you to say good-bye to all of this. No more envelopes – no more late-night phone calls, or even text messages, asking you to place bets. You set up your page with the sports you want to offer, as well as the games and side props that you want to offer. You go in and set credit limits for each of your customers, and link the account to your bank (hopefully for more deposits than withdrawals). Then you put the smartphone down and walk away from it. You can come back to it if you need to make changes or monitor the action on a particular day, but the platform manages all of that communication for you.
Don't Worry About Payment Security
Obviously, you still run the risk of people owing you money that they don't, or can't, pay. However, the risks associated with a cash-heavy business are no longer a part of your life. Instead of having to listen to that deadbeat who lost again betting on the godforsaken New York Mets and needs two weeks to pay you back, you have your clients link their accounts to your page on the sportsbook management software. Once they hit the credit limit, they can't bet any more until they pay more. You're not worrying about people calling you and begging you for some slack – and you're not waiting for that "check in the mail."
You also don't have to worry about the dangers of dealing with lots of cash. Instead, your profits sit in your account on the platform until you decide to withdraw them. The payment goes through a verified third-party system that is hackerproof, which means that your money is never at risk at any point when you use a bookie management software package like the one that www.AcePerHead.com. Once again, you get to focus on what you enjoy – picking out the action, setting the odds, and choosing prop bets.
Your Sportsbook Looks as Professional as the Vegas Books
One of the great benefits of using a bookie management software platform is that you gain instant credibility in terms of presentation. The big Vegas books all have sparkling websites that have plenty of information and are easy to navigate. With the Internet, anyone with programming and design capability can make a platform that looks just as inviting as the big casinos, even if they are just getting up and starting in the business. Your credit limits might be lower than what the big casinos offer, but other than that, there is nothing keeping your page from looking – and moving – like the MGM Grand's page.
This edge goes a long way when it comes to marketing your business. The Internet offers an infinite amount of opportunity when it comes to setting up websites – there seems to be no limit as to the number of pages. That's both good news and bad news for you because it means that you can compete with anyone, but it also means that anyone can compete with you. If your sportsbook page looks like your seventh-grade nephew programmed it (and especially if it is not mobile optimized), you will not pick up any business – there are just too many other bookies out there with the savvy to sign up with a sportsbook management software site like Ace Per Head.com. For a small investment, your page can resonate with the big boys.
Why Use
AcePerHead.com

?

Obviously, you have a choice when it comes to where you set up your online sportsbook. There are many bookie management software platforms – with a variety of price points. While AcePerHead.com is not the cheapest platform that is available, it is also not the most expensive – and you get what you pay for, just like with any product or investment. We provide our bookie clients with the best in terms of 24/7 customer service, mobile optimization, and professional appearance and navigation. Our platform makes it simple for you to customize your page and make it your own – and then go back in and make changes when you want to, such as adding or removing particular sports, changing odds, adjusting credit limits, putting up last-minute props, and the like.

Our bookie interface also makes it simple for you to manage your business over your smartphone, with easy review of wins and losses as you follow your profits. It is also easy for you to make adjustments with just a couple of swipes on your screen. We also offer a complimentary trial period for bookies who are looking to upgrade their online presence – or get their business off the ground in the first place. This period allows you the time to try out all of our bells and whistles, and we're confident that you will stick around at the end of the trial – although there is no cost to you if you decide to go elsewhere. Reach out to one of our sales professionals today!