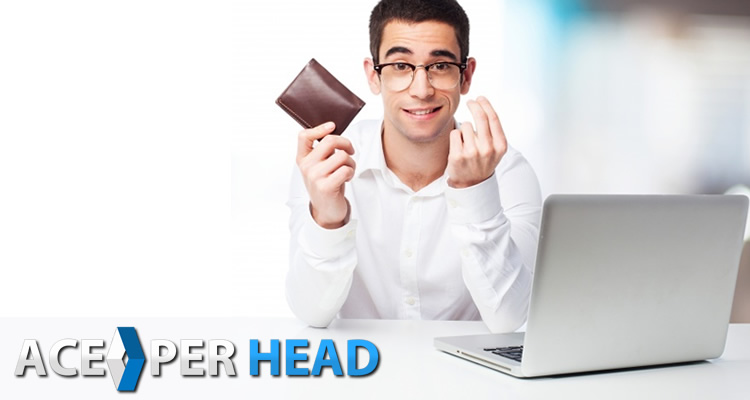 If you are a new bookie and are looking to book action then look no further than the pay per head industry.
The pay per head sportsbook industry is geared towards all types of bookies new and old and provides them with a fully inclusive professional betting website for their players to gamble on.
The reason these companies are called pay per head is that the costs involved with using them are just determined by how many players you have each week and thus bookies pay a fee per head or per player. AcePerHead.com is one of the most popular pay per head companies in the world and they have a standard price of $10 per active player per week. This simply means that you just get charged if your player has a graded wager for the week and if they don't bet then you do not get charged for that player that week. Then whatever the player wins or loses is handled directly between the bookie and the player and you as the bookie get to keep 100% of the profits.
Ace has a list of over 50 different website skins that new bookies can choose from and any site will be available for your players and the format will be exactly the same once they log into the site. The only difference is just the URL name and the home screen image. In addition, Ace Per Head manages all the lines and odds and they update those up to the second and 24 hours a day 7 days a week. This means you as the bookie do not actually need to know anything about the technical side of bookmaking because Ace handles all of that on their end.
Mobile Service
Also with the whole world having access to smartphones, Ace has created a fully formatted mobile site that all players and bookies can utilize right from the palm of their hand from anywhere in the world. This is important because 90% of gamblers use their smartphones to make wagers and having a site that has a dedicated and easy to use the format that fits perfectly on any smartphone is key to providing players with the most technologically advanced site in the industry.
Then once you are set up with your bookie account all you need to focus on is growing your business and acquiring players that want to bet with you. This is the fun and easy part because you can just reach out to anyone that you know, including friends, family, coworkers, and friends from school, social media, or fellow acquaintances. In addition, if you have some players you can always ask them as well if they know other people that would also like to bet.
Free Plays
Lastly, you can also give out small free plays to any new players or anyone who refers to a new player in order to give them a free perk to bet with you. Free plays are just a small amount of money you put into a players account that they can use to make a free bet. For example, you can give a new player a small $25 free play which they can use to make a wager on a game. If they lose the bet then the free play will just disappear and they will not be deducted for the losing bet, but if they win the bet the free play will also disappear but the winning amount will just be added to the current balance. So that is why it is called a free play because there is no way the player can lose any money using it, and everyone always likes something for free, especially gamblers.
So give AcePerHead.com a call today at 1-800-909-5193 to become a new bookie with your own betting site for your players to gamble on.