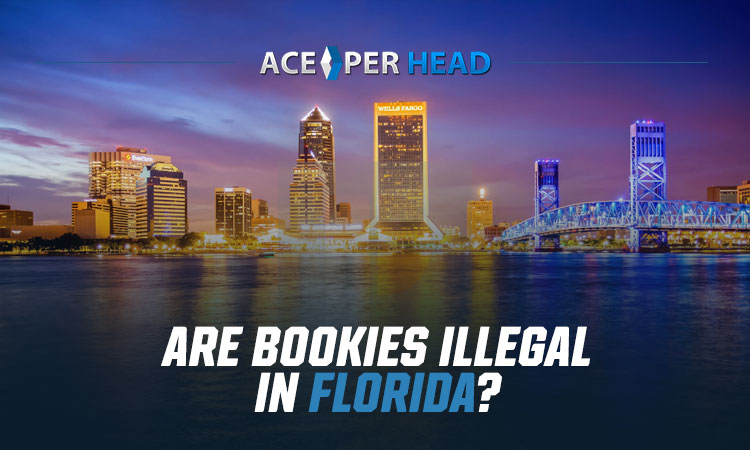 If you Google, "Is sports betting legal in Florida?", you'll find articles like this one that answer this question by saying, "It's complicated." And it isn't hard to see why.
Florida sports betting was legalized in 2021 after the state struck a deal with the Seminole Tribe to make in-person and online sports betting acceptable. But a judge declared that deal illegal soon after, which stopped Floridians from betting on sports for the time being. And it would take until August 2023 for Florida sports betting to become legalized again.
Now, a new question has popped up: Are bookies illegal in Florida? Believe it or not, it might be even harder to answer this question than it was to answer the question, "Is sports betting legal in Florida?", up until recently.
Find out the answer below.
Are Bookies Illegal in Florida?
When you first research the answer to the question, "Are bookies illegal in Florida?", it might seem as though bookies would be illegal based on the state's strange relationship with sports betting. But technically, bookies aren't illegal in Florida under the current laws in place.
There are, however, some restrictions for anyone who decides to try to become a bookie in Florida that'll make it impossible for them to earn a real living doing it. For example, anyone who attempts to become a bookie in Florida will only be able to accept five bets per day. These bets will also only be able to total $500 per day and $1,500 per week.
Because of this, being a bookie in Florida might as well be illegal. It isn't going to be very lucrative at all even if you try to skirt the rules that are in place.
Should You Become a Sports Betting Bookie in Florida?
Although the answer to the question, "Are bookies illegal in Florida?", is "no," that doesn't mean you should run out and become a bookie tomorrow. The regulations that have been established will make it difficult for you to turn a serious profit as a bookie.
There is also still so much uncertainty over the Florida sports betting laws. Until they're cleared up, you might be better off shying away from becoming a bookie in Florida.
Will You Ever Be Able to Become a Bookie in Florida?
You might not want to become a sports betting bookie in Florida at this very moment. But with the state relaxing its other sports betting laws, there might come a time in the not-too-distant future when you can make a decent living as a bookie in Florida.
You'll just want to make sure that you're ready to get your hands on the right bookie software should that day come. Ace Per Head can set you up with pay-per-head software that'll help you get a bookie business off the ground in no time.
Sports Betting Software Features
Research shows that 35% of people who can work from home prefer to do so full-time.
Are you looking for a career you can manage right from your smartphone? If so, why not become an online bookie?
With the right betting software features at your fingertips, you can get started right away. Today, we're sharing what to look for as you get your betting app up and running.
Pay-Per-Head Model
When you're setting up your platform, you need pricing that's simple and straightforward. That's why a pay-per-head model is the way to go.
With the best pay per head, you only pay for what you use. Our prices start as low as $3 per head, with special add-on features such as:
VIP live wagering
Live Casino
Custom prop builder
Taking your app live can be challenging, and you don't want to be surprised by unexpected fees. Make sure your betting software cost is transparent and easy to budget.
Mobile-Optimized
Did you know that up to 75% of people who hop online to watch the Sunday night kickoff do so on a mobile device? Your audience is already swiping and scrolling to find the best betting app, so that's where you need to be, too.
Look for a sportsbook that's fully optimized to support mobile use. At Ace Per Head, we've optimized all of our services for any device. This includes all of our agent reports, as well as our VIP live betting platform.
Custom Prop Builder
The best sportsbook will allow your players to choose from an unlimited number of prop betting options. With ours, they can even customize their own props and also have the option to parlay props.
Our custom prop builder makes it easy, allowing you to expand the services you offer your target bettors.
Real-Time Bet Ticker
You can't be by your smartphone at all times. Yet, you need to know when a big play comes through.
Look for a platform with a real-time bet ticker feature, so you can watch each bet as it occurs. With distinctive sounds and highlights, our app helps you stay up-to-date.
You can even configure special alerts to notify you when certain players place big wagers. We can send these through email or SMS text so you never miss a bet.
Player Security
Cybersecurity is a must in the online betting sphere. At Ace Per Head, we only identify players by their ID and password. We'll never call them unsolicited, or ask for any more details.
In addition, we'll also work to keep you secure. All conversations you have with your players will take place through the website. We encrypt all messages over SSL and make it easy for you to permanently delete them.
Keep a Close Eye on Florida Sports Betting Laws
The answer to the question, "Are bookies illegal in Florida?", might not be the exact answer you wanted to hear. But with Florida sports betting laws changing rapidly over the last few months, there might be better news ahead for sports betting bookies.
Learn more about Ace Per Head's bookmaker software so that you're familiar with it if becoming a bookmaker in Florida turns into a viable option.