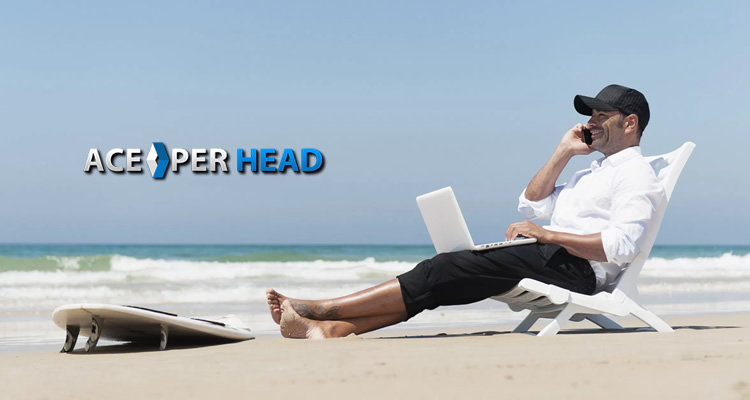 For most, summer is a time for vacations and spending time outdoors, but, for bookies, summer is not always a relaxing time, instead it is the time when independent bookmakers start looking for a better pay per head service, one that offers reliability, great odds, tons of live wagering events in all sports, and great customer service, in short, they are looking for the one place where they know they will receive the best bang for their hard earned bucks.
Quality Service at an Amazing Price
If this sounds familiar to you, then have we got news for you! AcePerHead.com the leader in pay per head services has just announced the most amazing summer deal yet, up to 5 weeks of exceptional service for half the price, you read that right, you will enjoy the sharpest lines in the business posted and managed by the most experienced oddsmakers in the industry with a 50% discount.
Agents around the world are over the moon with this promo, it's not every day that the top providers in this industry offer their services for such a low price. In addition to the best betting odds, your players will have full access to the most reliable online and mobile betting interface available today, with thousands of sporting events to choose from every month, and the widest offering of alternative lines, prop bets, futures, and matchups, not to mention the state of the art horse racing interface.
None of the other more known companies are offering discounts this big, so, if you've ever been curious about what working with a top price per head service is like, this is the perfect chance for you to try out Ace Per Head's amazing service. You can't go wrong, world-class service and betting odds for a fraction of the cost of what you are currently paying.
The offseason can be brutal on a bookie's finances, fewer players betting on a sport that in comparison has a low hold percentage can quickly take its toll. This promo was designed to help bookies take a load off their shoulders, bring down their costs and because you will be offering your players more solid betting lines, you will see your profits increase.
Ace Per Head cares about its clients and will always look for ways to improve their service while providing bookies with great opportunities to increase their revenue. No other pay per head company is as invested in the well-being of their client's business as AcePerHead.com, their ultimate goal is to help you grow your business.
Beyond the expected services provided by Ace, they provide something that can't be measured in money, they provide bookies with peace of mind. The kind of peace of mind that comes from realizing you won't have to ever shop around for a better service during the offseason, the confidence that your client retention will improve because they now have access to the best betting experience of their lives.
Although winter is still lingering on in some parts of the country, summer is just around the corner, and time goes by fast, I don't want to alarm you but this promo won't last for long, so the time to act is now, call today to speak to an account manager and learn more about how you can receive the best service for up to 5 weeks at an incredible 50% discount.