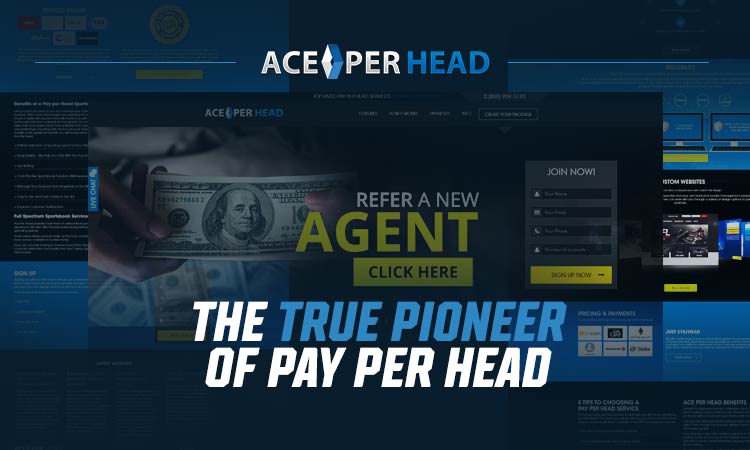 The business of online gambling has hit its stride with the NFL season in flight. A survey revealed 45.2 million Americans planned to bet on the NFL this season, a 36% increase from last year. So you wouldn't be alone thinking this is an excellent time to become one of the providers for these bets.
Sports betting is only one good reason to start a bookie service today. Online gambling sites have more to offer the player than ever before, thanks to software providers. One such company has been in the pay-per-head industry for years.
So for an Ace Per Head Service Review, keep reading. But, first, let's get a closer look at a pioneer pay-per-view software provider.
A Brief History of Ace Pay Per Head
As far back as 1994, a small online sportsbook began in Costa Rice. Four years later, Ace began offering pay-per-head software to other sportsbook entrepreneurs. After investing in consulting and tech professionals, Ace PPH services started to grow.
For the last several years, the company has invested in new technology and consulting. The website for their bookie service to agents went live in 2012. Since Ace is a pay-per-head software provider, they are not in the business of taking wagers any longer.
Pay-Per-Head Software Explained
If you were to start a sportsbook from scratch, there are a lot of pieces to consider first. Aside from collecting customers, you would need to create a website and set all the betting lines. Then, you have to think about adding a payment and withdrawal portal.
Yet, a pay-per-head software provider does that all for you and more. The interface allows you to use competitive odds for events from professional sources. As your base grows, you can add different sports to the software.
Ace pay-per-head takes a weekly fee for each user on your sportsbook site. They provide the whole platform from betting lines to customer service portals. In addition, customers get a chat room function for 24/7 service to your customers.
Customer experience is crucial to a successful bookie service. So, pay-per-head industry leaders provide support staff without language barriers. And they to be available when bettors need them.
The bookie service also sets you up with payment functions from a variety of sources. With this turnkey operation, your online sports betting site is attractive and professional. In addition, the pay-per-head software provider gives agents a presence like more prominent organizations.
So with a good business plan, before you get started, the pay-per-head software provider does all the rest. First, choose from pre-created skins or customize your site for the look you want. Then, add sports to your page as interest grows.
About the Software
Ace Pay Per head uses DGS software for bookie services. Since it is not proprietary software, there are limits to the available skins. Yet, Ace has added a function for customizing the software.
Some sites with proprietary software have more feature options. But they are also more susceptible to connecting interruptions.
So the trade-off is stability for more features. Ace Pay Per Head prides itself on its record for security and customer satisfaction. Yet, they also include functions valuable to getting a sports betting site up and running.
Adjustable Betting Options
Bookie agents can move their own betting lines inside the site. The software will provide an industry-standard set of odds. But if you want to move a line to attract more action, you have that option.
One of the most significant features to come along in the industry recently is Live Betting. So, for example, your bookie service can offer another betting tier for a fee above the $10 per head. In addition, you can invite players to a VIP live betting platform that increases the types of bets available.
Platform Tracking Systems
The pay-per-head software from Ace allows bookies to follow the action in real-time. The customizable tracking system lets you see who is betting and how much. The bookie service can then watch for bigger bettors with full reporting.
Then, with the Bet Ticker tool, agents know where every bet is getting made as they happen. For the savvy sports betting operator, this device allows you informed odds adjustments.
Connectivity
The pay-per-head industry has evolved to encompass more internet technology. So the software is also accessible from various devices. And the business can track from which type of devices more bets are coming.
With twenty-six states now allowing online sports, tracking where those wagers are coming from is even more vital. In addition, it allows your bookie service to target places to increase business.
Software Security
The most crucial part of any business is making the customer feel safe. For an independent bookie service, integrity is critical for success. So Ace Pay Per Head has partnered with technology firms for the best protection.
One issue that plagues some in the pay-per-head industry is redundancy. Internet services are constantly under scrutiny, so no system is perfect.
Yet Ace has ensured backup systems and DDOS attack protection across all networks. As a result, this seven-layer security system might be the best in the pay-per-head industry.
Including telephone networks, staff works 24/7 to maintain proper firewalls. As a result, users stay connected with live agents whenever a problem arises. And every client gets a dedicated support staff member to help with their business challenges.
Scalability
Right now, the NFL season is the giant of the online betting world. But as a bookie service, you know that online sports betting crosses over many sports. So when the football season ends, other betting opportunities must fill the void.
A pay-per-head software provider like Ace allows you several options. First, you can increase the sports to accept bets on, including horse racing. Then, with a leader in the pay-per-head industry, your next step is easy.
The online gambling industry is also growing with virtual casino sites. They became more popular during the pandemic, but the industry will continue to grow. And online casino games are an excellent way to offer more play to clients.
Software to add table games and slots is a sure money maker. And the American market is relatively new to internet gambling compared to others. On the other hand, Europe and Asia have been thriving casino markets for many years now.
Ace Pay Per Head does offer casino slots and even live dealer table games for an extra fee. When players get new play options, they are more likely to stick around. But to start, it's best to work with sports betting for now.
Preferred Payments
One reason many bettors like a private bookie service is the flexibility in payment. As local sports betting agent, you know clients don't want hassles with funds. Getting paid on wins or funding future wagers should be easy to process.
So, Ace Pay Per Head gives the agent several payment options for dealing with clientele. For example, Bitcoin is a tangible commodity for a lot of sports bettors. So, they would like to know they can fund their accounts with cryptocurrency.
Are you new to the pay-per-head industry? The Ace Pay Per Head team provides loads of information about starting a sports betting site. Your success as a bookie service is in the best interest of the pay-per-head software provider.
Ace Per Head Service Review Summary
If you are looking to start only a bookie service for a local network, there are many cheaper options. But when you want to get serious about online sports betting, Ace Pay Per Head has more to offer.
Every pay-per-head software provider should give you skins to meet industry standards. For example, services give professional betting lines with a few dollars weekly for each customer. And a lot of them will give you style options for your site.
Some pay per head software scales up to include racebooks and online casinos. Where Ace Pay Per Head separates from the pack is with added features. Live game betting and live table dealers are excellent visual advantages for customers.
As with other sites, telephone wagering is possible with the platform. But, again, the website is your domain under your complete control. But Ace Pay Per Head also backup the integrity of your gaming site.
The security software is the best in the pay per head industry. So service interruptions are less likely than anywhere else. When issues do arise, the twenty-four-hour phone service is a great feature.
Some providers give a bookie service more aesthetic options. But Ace has added some extras to the proprietary software for customization. So for scalability, it's hard to argue against the Ace Pay Per Head platform.
Choose Your Options for Success
Online sports betting is growing every year. So new players are coming online to take wagers from more bettors in more places. To compete, your bookie service needs the best technology in the business.
This Ace Per Head Service Review should point out that experience means a lot in the online sports betting industry. The pay-per-head software business relies on continual sports betting from your customers. So security and ease of use on a range of channels are crucial to your business.
So if you want to learn more about the Ace Pay Per Head service, take a closer look today for your best options.