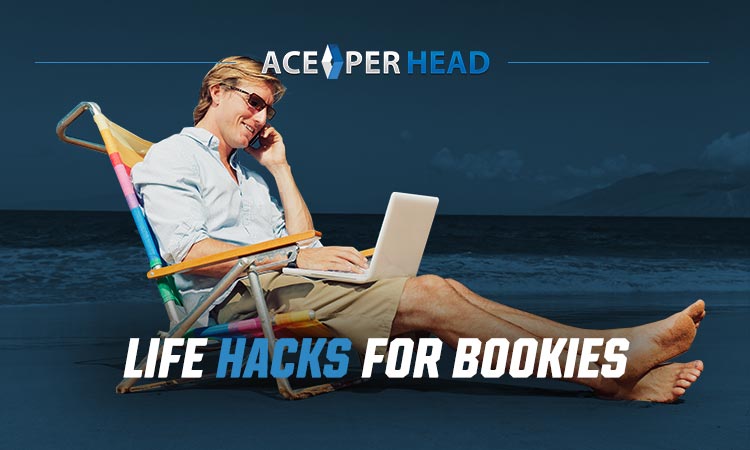 We all have a way to hack life and get things for free or at least make our lives a little easier; if you are a bookie, keep reading, as this will save you tons of money this football season.
Getting Top Service for Free
Did you know that AcePerHead.com, is offering new clients a pay-per-head sportsbook for 6 weeks free? That's right, the leader in price per head services is giving you the chance to try out their bookie software for free.
Ace Per Head has been in operation for more than 24 years, and during this time they have established themselves as the absolute best pay per head software, providing agents with superb customer service, the newest technology, the best betting odds, top of the line security, and customization all for the same price that other lower-quality service providers charge.
How Does the 6 Weeks Free Work?
The pay per head sportsbook free period is available to all new registered agents, Ace Per Head is so confident about the quality of their service that for a limited time, they are extending the free to 6 weeks.
This means you get to enjoy all the benefits of working with Ace for free for a total of 6 weeks, this is unheard of at other price-per-heads, where if they offer a free period at all it normally consists of 1 or 2 weeks.
Why 6 Weeks?
It is no secret that new customers get a lot of attention after a price per head sportsbook knows they have you, they quickly lose interest, and all of a sudden, your emails go unanswered and your calls are never returned except to charge you for a mediocre service.
Ace Per Head.com is different, they take care of each and every agent as if they were the only clients they have, this is what sets them apart from the competition, sure, there will be busy times when they might take a little longer to answer but you will always hear from them as fast as possible. To prove this, they are giving you 6 weeks to test them, if at the end of the 6-week period you are not satisfied and they are unable to come up with a satisfactory solution for you, then you walk away with no strings attached.
How Long does it take to get set up?
Prepare to be amazed, set up times can take as little as 15 minutes, you register, initial contact with a representative is required so they can make sure they understand what your specific needs are, for this you can give them a call right after you sign up or wait for them to contact you. Once they understand your needs they go to work setting up your agent account and the individual player accounts associated with your agent ID.
If you have a complex business model, set up times can take a little longer, but are normally done within 24 hours unless you are paying for a custom-built website complete with logo, your preferred color scheme, and toll-free number.
Cost-Effective Ways to Offer the Cheapest Pay Per Head
As an independent bookie, ensuring revenue is a key factor of the industry. Learn some cost-effective ways to make money as a bookie.
Sports betting isn't just a rapidly-growing industry in the US. It also is increasingly becoming a worldwide phenomenon. With a record $378 million in global revenue solely in one month, the industry is booming.
If you're considering becoming a bookie, you likely are looking to purchase the cheapest pay per head services and offer easy betting for players. Here, we're going to discuss how you can budget and make as much money as possible.
Choose the Right Provider
To ensure that your bookmaker business is profitable, it's critical that you choose a PPH provider that works for you. You'll need someone who saves you time on both updates and customer service. You also will need someone who's willing to talk with you regularly about your needs and provide pointers on how to make more money.
Ace Per Head will do all of these things and more. This saves you money because you no longer will need to waste time on menial tasks. You can focus on boosting your revenue by implementing new betting ideas and growing your sportsbook.
Another reason that Ace Per Head is a great provider is because of our competitive pricing. Many competitors will offer PPH services with a lot of hidden costs in addition to the price that you pay for each player. However, we hide nothing.
We offer transparent pricing solutions with zero hidden fees. We also provide price-matching services to ensure that you're getting the lowest possible price. Since it only costs you about $10/player on our site, you can save a lot of money by working with us.
Use (and Offer) Bitcoin Payments
Ace Per Head also lets you make payments to us in bitcoin. Because they're decentralized and untraceable, bitcoin payments aren't susceptible to the same tax regulations as fiat currency. You save money on taxes and therefore can keep the majority of your winnings.
Bitcoin payments also can boost your revenue by keeping you competitive in the sports betting market. Players like cryptocurrency bets not only because of the tax breaks but also because they protect their privacy. When you offer anonymous payment, you build a reputation of valuing player security.
You therefore will receive more payments in the long run. This lets you grow your sportsbook even further and become more profitable. You can then offer lower base rates and subscription fees for players, which saves you money due to a higher competitive edge.
Monitor Trends and Plan Ahead
Sports betting is an always-changing industry, and so it's important that you monitor trends within it. Notice when the market is improving vs when it's declining. You should have some money set aside from when it's booming so that you can get through the times when it isn't.
You can expect more bets around the times of major sporting events than off-seasons. The Super Bowl, World Series, World Cup, and March Madness are huge times for sports betting. Even those who don't engage in it year-round may place a bet at these times.
Save some money from your winnings during this time. You can then continue to grow your business during the off-season. This lets you provide cheap PPC services and remain profitable even when fewer people are betting.
Watch Out for Professional Gamblers
Another huge pain point for bookies? Bets are placed by professional gamblers.
These people already know the market extremely well and understand which sports and events have the highest statistical payout. They also understand the PPH agent's house edge thoroughly and have done the math and research to beat it.
Many bookies choose not to accept payments from professional gamblers. This is a good choice so that you don't need to provide high payments to frequent winners. To do this, you'll need to be smart in vetting out these professionals and striking them from your sportsbook.
Some signs that you're dealing with a professional gambler include:
Placing bets days or even weeks in advance (most bettors will bet day-of except for on large events like the Super Bowl)
Astronomically large bets that most people couldn't afford
High rates of winning
Immediate (instantaneous) payments
Repeat gamblers who place bets every day rather than weekly/monthly
Limit Accounts
If you have an account that's winning extremely often, question whether or not they might be a professional gambler. If they are, shut down the account. This is perfectly acceptable as long as you outline your professional gambling policy on your PPH platform. It shouldn't hurt your reputation.
However, if you're unsure of whether a frequent winner is a professional, you also have the option to limit their account. This means that gamblers will still be able to place bets and get a payout. However, they can only wager a specific amount to prevent you from breaking the bank serving them high winnings.
This is especially critical for beginning bookies who don't have the funds to deal with repeat high-stakes winners. You can ensure that your business remains profitable.
However, be cautious about whose accounts you limit. Choose only those that you think have the potential to cause untold stress for you. Limiting too many accounts can drive players away to your competitor's sites.
How to Register with the PPH Free Trial
Simply fill out the short form and contact the account representative and let them know you are interested in the free trial.
Now that you know how to offer PPH services without breaking the bank, it's time to get started with the cheapest pay-per-head services. Sign up for a 6-week free trial of Ace Per Head's bookie platform.
Our experts will help you to set up a website from either a template or your custom idea. We then will monitor your site, engage with you and customers, provide automatic updates, and maintain security measures. The trial comes with no obligations, but we look forward to showcasing what we can do for you and working with you as a regular client.