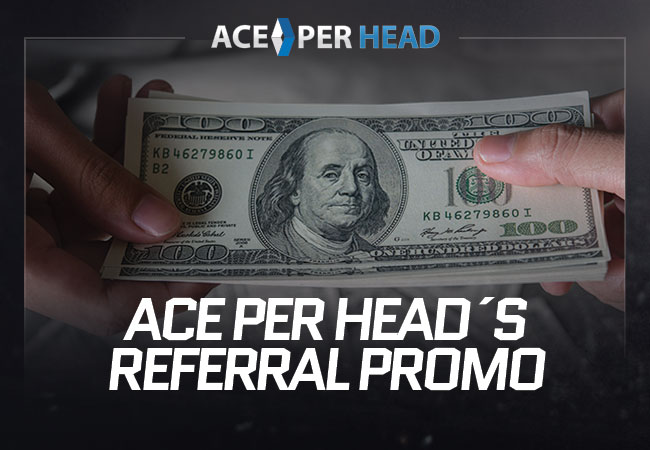 Ace Per Head is always adding different types of promos for their customers. All customers are obviously not the same so Ace Per Head likes to give their customer base various options to choose from, so each customer can choose the best promotion that fits their specific needs.
Ace offers various different free week options, such as a 9 free week promo, 6 free week promo, 4 free week promo, and 1 free week promo. They have a free website promo that new agents can have their own customized website URL and logo of their choice. There is a 50% discount promo for the first 5 weeks of service. Another one is the crypto promo where agents can get a discounted rate if they pay the website player fees using cryptocurrencies.
Now they just released their newest additional promo which is the Ace Per Head referral promo. If you are a new agent or an existing agent you can get a nice monetary benefit and credit towards your account just by referring other agents that you may know. Since you are in the world of gambling you will frequently come into contact with other current bookies that use another service, or people that have an interest in becoming a bookie for the first time.
So any referral you have you can either have them contact Ace Per Head directly and just mention just your user id as the person who referred them, or you can contact Ace Per Head yourself and give them that referral's contact so they can reach out to them and get them set up with their own agent account.
For any new agent that you refer to Ace Per Head, you will get a monetary bonus credited directly into your agent account that will be used directly towards your balance to pay your own site fees. The first 4 weeks that your referred agent uses Ace Per Head, you will get 100% of what that person was billed during those 4 weeks, and that amount will be credited in full directly into your account after the 4th week of usage by your referral.
So for example, if you refer another bookie that ends up getting billed $250 a week for the first 4 weeks of using the service, then after that 4th week is complete you will get a $1,000 credit directly into your agent account on Ace Per Head. There is no limit to how much credit you can receive and obviously the more players your referral has and the higher fees he incurs each week will just increase how much your full credit will be.
In addition, you will be able to refer as many agents as you want, so there is literally no limit to how much credit you can receive into your account on this referral promo. All that credit will be directly applied to your account, which depending on what your weekly bill is, could lead to lots of free weeks of service for you.
So if you know other agents give AcePerHead.com a call today at 1-800-909-5193 and cash in on any and all referrals you have.