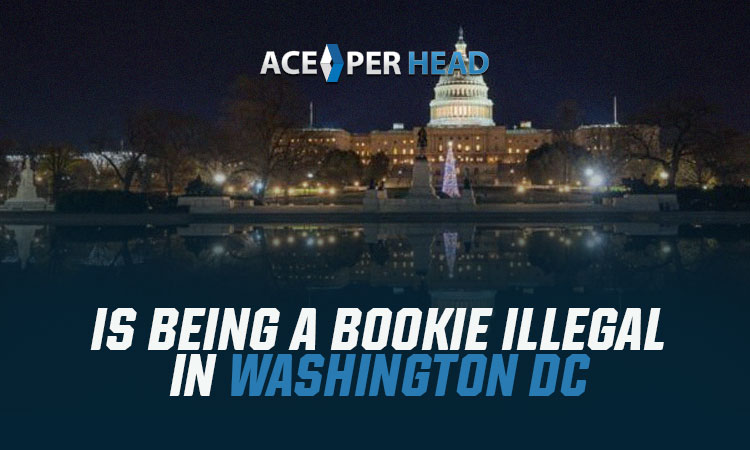 With about 675,000 residents, Washington DC is one of the least populous parts of the US. The legalities of sports betting in Washington DC are somewhat complicated, so these people can only place sports bets in limited ways.
But is being a bookie illegal in DC? Read on for more in-depth information.
Is Being a Bookie Illegal in DC?
Technically, no, sports betting is legal in DC. However, being an online bookie is still generally illegal.
Independently-run sports betting sites are illegal throughout the district. In-person betting options are also extremely limited.
However, there are some exceptions. GamBetDC is run by the lottery and offers lines to bettors in the area.
Unfortunately, those lines are worse than market averages and the app is geofenced from any federally-owned properties. This is a huge issue for the nation's capital, which is made up of a lot of federal properties.
The only form of legal gambling in the area is the District Lottery which owns GamBetDC. It does not operate online and is extremely limited. Lottery drawings, scratch tickets, and keno are legal, but nothing else is.
How Can Residents Get Around Restrictions?
There are no better legal ways to bet on sports or play online casino games in DC. However, it's easy for residents to enjoy gambling because of DC's proximity to locations with legal gambling options.
Maryland and West Virginia have legal mobile and in-person betting. Atlantic City is also a simple 3-hour drive away. While these options are mostly land-based, they keep people in a gambling mindset and offer reasonable ways to get around DC's betting restrictions.
Will DC Ever Make Mobile Betting Accessible?
It seems likely that gambling laws in Washington DC will shift in the coming years. Since betting isn't technically illegal, they simply need to loosen restrictions, allow for more mobile casinos to operate, and stop restricting the use of GamBetDC and its superior successors on government property.
As more and more states legalize gambling, this looks more likely. Currently, the GamBetDC app is generating very little revenue for the local government.
Over time, DC is likely to realize that states with fewer restrictions generate good revenue. This may cause them to relax.
Can You Operate a Washington DC Bookie Business?
Not currently. However, you can set up a pay-per-head website and target sports betting enthusiasts in adjacent states. This is a surefire way to make money from legal gamblers in the region and get an in with the local market.
You can also take bets from DC residents who are geographically located in these nearby jurisdictions. This would be based on geographical information on the mobile devices from which they're placing bets.
This gets you an in with DC sports enthusiasts so you can expand operations to DC once gambling becomes less taboo.
What Is Pay Per Head?
To start, let's discuss the meaning of pay per head. It'll provide you with a better understanding of why you might want to work with a pay per head service while running a bookie operation.
A pay per head service is a service that will set you up with everything you'll need to run an online sportsbook and casino. From your own customized website and sharp betting lines to digital casino games and customer service, you'll get all the things you'll need to run your bookie business in one neat and tidy package.
For a long time, bookies were in charge of running their own operations using their own resources. But a pay per head service can do a lot of the heavy lifting for you so that you can focus on catering to your clients and raking in profits.
What Are the Benefits of Starting a Pay Per Head Sportsbook?
There are quite a few benefits you'll enjoy when you start a pay per head sportsbook. For starters, you'll get a custom website like we just mentioned.
You can use this website to create accounts for your clients. They'll then be able to place sports betting wagers through your website and even play casino games on it.
You'll also come to love that a pay per head sportsbook will keep track of all your clients' wins and losses and allow you to set up betting limits for them. It'll give you complete control over your whole operation.
Additionally, a pay per head sportsbook will provide you with customer service representatives for both yourself and your clients. You won't need to worry about fielding calls from your clients anymore about betting lines, website troubles, etc.
Which Pay Per Head Service Should You Rely On?
Since there are so many advantages to using a pay per head service, many PPH services for bookies have started to pop up. You're welcome to work with whichever one you like the most.
You'll find that Ace Per Head will be one of the best options of the bunch. We have more than two decades of experience when it comes to working as a pay per head business. We can help you take your bookie business to the next level with a pay per head sportsbook and casino for as little as $3 per head.
Find Out How Ace Per Head Can Help You
Do you believe you could benefit from using a pay per head service? Ace Per Head would love to show you how we can help you.
We invite you to take the best pay per head software for a test drive by taking advantage of a 6-week free promo. It'll show you exactly what makes our pay per head service superior to all the rest.
Create a Sports Betting Website Today
So, is being a bookie illegal in Washington DC? The answer is more of an "it's complicated" than yes or no. However, while you wait for these complexities to die down, you can operate a sportsbook in any nearby jurisdiction.
Ace Per Head is excited to help you do that. Create your package to set up a website and get a 6-week demo of our services for free.